Internships l  Optional Internship Paths l Internship Examples l Clinics l Other Opportunities
Get experience inside and outside the classroom. Inside the classroom, our core courses give you the fundamentals that you need to understand conflict and dispute resolution.

Outside the classroom, hands-on experiences give you the opportunity to apply what you've learned in a real-world environment. This blend of practical experience and classroom-based learning means you leave the program ready to tackle conflict head-on.

Internships
You are required to complete at least 320 hours of internship (eight credits). You will satisfy this requirement with one, or more, internships, either domestically or internationally, or through the Nonprofit Clinic.
Internships are meant to further your education with real world experience and provide a stepping-stone to your post-graduation work. Finding an internship is a collaborative effort; you will work closely with our Program Director through the Professional Development course to identify interests and opportunities.
We have relationships with a wide range of potential internship organizations and continue to develop new relationships. You will have the option to intern in a variety of sectors, including ombuds, environmental dispute resolution, community work, restorative justice, health care, education, international, mediation, facilitation, etc. You may choose to do your internship in a concentrated period or over a longer period during the academic school year.
Additionally, we have four established internship paths with required courses or training.
---
320
Required internship hours
100%
of students gain hands-on experience
---
Optional Internship Paths
Collaborative Governance and Environmental/Public Policy Internship Path:
In partnership with the National Policy Consensus Center, we offer a FREE multi-day training in public policy collaborative negotiations and consensus-building for students. After this training, interested students are placed on environmental/public policy projects throughout Oregon. You will work on public issues such as resource management, land use, transportation, water and forest management, access to government, etc.
Family Mediation Internship Path:
 
​​
The Youth Services' Mediation and Restorative Services unit of Lane County Youth Services may be a good option if you're interested in the domestic relations mediation practice area. You must take our
Family Mediation course
to be eligible for this internship. As part of this internship your work may include intake, mediation, and/or training around family issues.
Israel/Palestine Internship Path:
Israeli/Palestinian conflict expert Diane Baxter directs our Israel/Palestine internship path. To be eligible, you must take our
Israel/Palestine
 course. You and Professor Baxter will work together to find an appropriate internship organization. Organizations work in various aspects of the conflict including education, dialogue, reconciliation, and peace-building.
Internship Examples
Local:
ACLU
Centro Latino Americano
Center for Dialogue and Resolution
Eugene Community Court
Lane County Mediation & Restorative Services
Lane County Youth Services
Looking Glass Riverfront School and Career Center
NAACP of Eugene/Springfield
UO Athletic Department
UO Ombuds Program
UO Safety and Risk Services
UO Title IX Office
UO UNESCO Crossings Institute
Northwest:
Center for Sustainable Economy, West Linn, Oregon
DS Consulting, Portland, Oregon
Insight Development Group
National Policy Consensus Center, Portland, various locations
Neighbor to Neighbor, Marion County, Oregon
Oregon Department of Corrections
OSU Student Conduct and Community Standards, Corvallis, Oregon
Regional Solutions Center, various locations
Resolve, Medford, Oregon
The Ruckelshaus Center, Seattle, Washington
Southern Willamette Forest Collaborative, Lane County, Oregon
Greater U.S.:
Office of International Religious Freedom, U.S. Department of State, Washington, D.C.
Association for Diplomatic Studies & Training, Arlington, Virginia
The Environmental Protection Agency, Washington, DC
Los Alamos National Laboratories, Los Alamos, New Mexico
United Nations Office of the Ombudsman and Mediation Services, New York, New York
International*
Al-Najdeh, Beirut, Lebanon
Baladna Association for Arab Youth, Israel
Extern, Northern Ireland
Center for Democracy and Community Development, East Jerusalem, Israel
Coddict, Lebanon
Kids4Peace, Israel
Search for Common Ground, Liberia
---
Clinics
You can also gain hands-on experience through working in a clinic. Clinics combine experiential learning with in-class learning. As a CRES student, you will have the opportunity to participate in the Nonprofit Clinic.

The Nonprofit Clinic is an interdisciplinary clinic that brings law, planning, public policy, and management and conflict resolution students together to serve the Oregon nonprofit community. Working in teams, you will conduct an organizational assessment of several nonprofit organizations, draft an assessment report, and present your findings. You will also facilitate a dialogue between the nonprofit organizations' Executive Director and Board of Directors regarding recommendations.
---
Other Opportunities
In addition to curricular experiential learning opportunities, you will also have the opportunity to participate in co-curricular activities.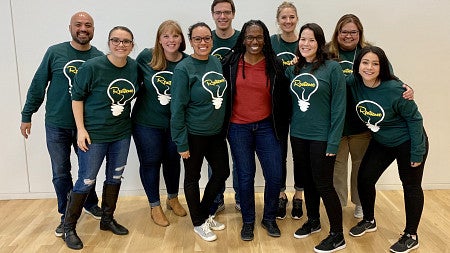 Enhance your leadership knowledge and skills and earn a File Leadership in Practice Certificate of Completion . To earn this non-degree bearing certificate, you will complete 14 hours of training. You will earn hours by participating in lectures, monthly newsletters, a lunchtime leadership series, a retreat, leadership coaching, a reading program, and a fellowship program.
Oxford Consortium for Human Rights
You will have the opportunity to apply to participate in Oxford Consortium for Human Rights workshops as an Oxford Consortium Human Rights Fellow. Workshops are usually over a week during the spring and summer. Topics have included: human rights in and after conflict, humanitarian action, conflict trends, human rights law, peacemaking, ethics and more.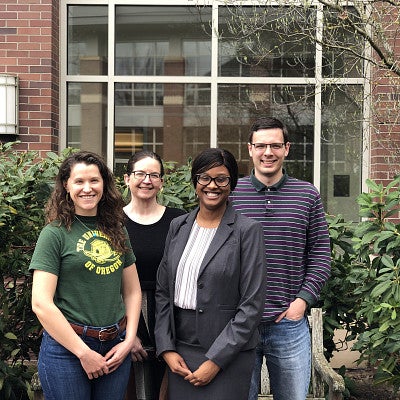 Students Engaged in Dialogue and Discourse
The university sponsors over 250 student groups, one of which is Students Engaged in Dialogue and Discourse (SEDD). SEDD is an Associated Students of the University of Oregon recognized student group open to all students at the university. Their mission is to promote the use of alternate forms of dispute resolution (ADR) and educate students in all fields on how to best use ADR in their future careers. SEDD hosts a variety of skills gyms, presentations, and panels throughout the year.