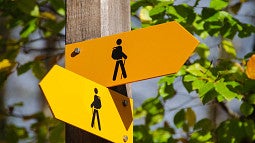 Conflict & Gender l Conflicts of Incarceration l Dialogue Across Differences l Environmental Conflict Resolution l Facilitation l Family Mediation l Israel/Palestine Conflict l Managing Conflict in Organizations l Nonprofit Clinic 
---
Build on your core courses and focus on specific sectors of conflict resolution. Take courses through our program or explore what the University of Oregon has to offer in the over 80 graduate subject areas of the Graduate School.
---
This list provides a sampling of the graduate elective courses that are available through the Conflict and Dispute Resolution Master's Program.  For information on current course offerings for each term, see the UO Class Schedule (select the appropriate term and search on "CRES"). 
For more information on these courses, please contact us.
Graduate Elective Courses
Conflict and Gender (4 credits)
This course focuses on the multiple relationships among conflict, violence, and gender in situations of warfare, militarization, and peacemaking. You'll learn what gender is and why it matters in conflict studies and about biological, evolutionary, socio-cultural, and psychological theories of gender difference. You'll explore gender and conflict in contemporary state societies, post-conflict societies, and peacemaking. You'll examine the relationship of gender in military conflict to gender in non-military conflicts.  File Syllabus
Conflicts of Incarceration (4 credits)
This course is organized around the issues of crime, incarceration, and justice within the Western context. You will read and think critically about crime and incarceration, taking note of the impact of crime on victims, offenders, their respective families, and our communities. This course provides an introduction to the principles and practices of restorative justice including the needs and roles of those impacted by crime.  File Syllabus
Dialogue Across Differences 1 & 2 (2 credits each)
Experiential workshop exploring the theory and practice of dialogue as a tool for dealing with group conflicts and differing perspectives. Dialogue is a process which is different from other forms of group engagement in a variety of ways, and has wide utility in multiple arenas. The skills involved in dialogue cross disciplines and purposes. This course will explore the process and content of dialogue work, including formats, skills, and processes involved and various cases where it has been utilized. Dialogue Across Differences 2 builds upon the first course and is adapted to the contexts most relevant to you.
"Wicked" problems are defined as having uncertain boundaries, defy absolute solutions, and can be a symptom of larger problems. The focus of the course is to build confidence in addressing wicked problems through methods used in environmental conflict resolution. Role plays will focus on regional and international land management, climate change, and related water issues. Concepts covered in the course include conflict assessment, negotiation, decision-making, adaptive management, collaboration, and public participation in many different environmental, natural resource, and water conflict situations.   Syllabus 1                    
Facilitation (2 credits)
This course aims to improve your understanding of facilitation theory and models, your practical skills as a facilitator, and your effectiveness as a facilitative participant in groups and teams. You'll learn and practice effective tools and strategies for facilitation. You'll diagnosis strengths and weaknesses, and default tendencies in yourself and others in facilitation. You'll develop capacity around receiving and giving feedback and learn new frameworks for understanding and managing group dynamics. File Syllabus
Family Mediation (4 credits)
This course will prepare you for work-related experiences in the field of family mediation, specifically domestic relations pertaining to custody and parenting time. This course will focus on the practical skills and knowledge needed to assist families through the change that separation and divorce brings to the family. This course will also address the basics of custody and parenting time agreement. You will learn about the unique needs of parents when issues of domestic violence, drug and alcohol use, and other safety concerns are part of the equation. The course satisfies the training requirements for domestic relations custody and parenting time mediators in Oregon. File Syllabus
Israelis and Palestinians (4 credits)
This course examines issues related to the Palestinian/Israeli conflict. You'll explore the evolution of the political struggle, look broadly at the human side of the conflict and examine critical negotiation issues. You'll learn about: the history, context, and participants of/in the conflict. You'll also have the opportunity to act as a character in the conflict and negotiate with your colleagues.  File Syllabus
Managing Conflicts in Organizations (4 credits, begining Winter 2022)
This course prepares you to work in a conflict management position in or for an organization. Youwill receive a basic introduction to organizational context and structure, leadership and communication styles, and sources of workplace disputes. The course also provides an overview of the processes by which organizations typically resolve disputes. You will apply this knowledge to current organizational disputes, designing a conflict analysis and suggested resolution strategies and redesign. File Syllabus
Nonprofit Clinic (6 credits)
The University of Oregon School of Law, the Master's Degree Program in Conflict and Dispute Resolution (CRES), and the Department of Planning, Public Policy, and Management (PPPM) have joined together to create a clinical opportunity for students to apply their respective skills while offering a valuable service to the Oregon nonprofit community.  In this clinic, students will (1) learn about nonprofits in action; (2) engage with expert consultants, executive directors, and boards of directors; and (3) build pathways to support and strengthen nonprofit organizations. File Syllabus
---
---