To help address the housing and eviction crisis, the U.S. Attorney General's Office put out a call in August 2021. They asked lawyers and law students to take immediate action to help their communities. University of Oregon's School of Law was one of the 99 law schools that responded. 
Dean Marcilynn A. Burke, the Dave Frohnmayer Chair in Leadership and Law at the UO School of Law, was one of those deans who signed the petition.
The AG requested help with completing Emergency Rental Assistance applications, volunteering with legal aid providers, and helping courts implement eviction diversion programs, among other initiatives aimed at increasing housing stability and access to justice.
"Five months ago, I asked the legal community to answer the call to help Americans facing eviction. Law students and lawyers from across the country stepped up to take on cases and assisted their clients and communities at a time when our country needed it the most," Attorney General Merrick Garland said. "Today, our work is far from over, and making real the promise of equal justice under law remains our urgent and unfinished mission."
In just a few months, law students across the country, including those at the UO, dedicated nearly 81,000 hours to provide legal assistance to households and communities across the country.
"Not since John F. Kennedy's call to action to lawyers in the sixties have we seen such a galvanized effort from national leadership to the legal profession," Dean Burke said.
This past year, Oregon Law students' work has met the community's needs in a variety of ways:
Two new cohorts of law students worked with Springfield Eugene Tenants Association (SETA) to provide information to callers facing eviction and other housing issues about their rights and resources for rent assistance and legal support.
 
Two students who started as hotline volunteers have joined the board of SETA and engage in state-wide advocacy efforts.  (See the story below of one of the students Ellen McKean.)
 
Eleven students have completed externships at legal aid offices around the state of Oregon and with local nonprofits on housing matters related to the eviction crisis.
 
A team of students is teaching renter's rights classes as part of St. Vincent dePaul's Second Chance Renter Education program, which assists people who are transitioning back into housing.
What the Attorney General's office called "a grand experiment," has benefitted the vulnerable and law students alike, said Laurie Hauber, Oregon Law's Director of Experiential Education. 
"The first-hand experience with these issues is invaluable to our law students and provides a critical service to vulnerable populations in our community," Hauber said.
---
Student Spotlight – Ellen McKean
Second-year Oregon Law student Ellen McKean has tirelessly given back to both the law school and the local community throughout this past year.
McKean has logged many pro bono hours on the Spring Eugene Tenants Association (SETA) hotline. She became such a valuable volunteer that she was invited to join SETA's governing board and also serves as an officer of the board. She even lent her expertise to Rennin Davidson, SETA's new Hotline Operations Director, helping her learn to navigate the call system and applicable statutes.
Davidson spoke highly of McKean and believes that she "has been absolutely essential to the operations of the hotline. It is also obvious to me that Ellen is dissatisfied with maintaining the status-quo in the face of injustice, and her ability to think critically and creatively makes her a valuable member of our team."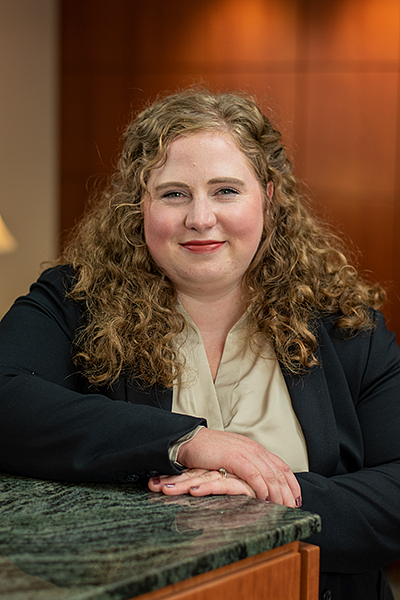 McKean also makes time during her law school schedule to testify at local and state legislative hearings on behalf of renters.
During McKean's time as a first-year student, she volunteered for the Oregon Law Students Public Interest Fund (OSPIF) and now serves as an OLSPIF Board Member. Over the summer, she received a competitively awarded OLSPIF stipend to work at Legal Aid Services of Oregon in their Douglas County Office. McKean also serves as a Volunteer and Grant Coordinator for OLSPIF and continues to pay it forward and help fundraise for other public interest law students.
Legal Aid Services of Oregon helps low-income Oregonians navigate a range of legal matters including housing, employment, healthcare, public benefits, discrimination and family law issues. Reflecting on her experiences, McKean said she hopes to pursue a career in public interest work by representing underserved individuals. "OLSPIF has allowed me to gain hands-on experience with an organization working directly with vulnerable Oregonians to achieve justice. I am so grateful for the opportunity."
McKean received her undergraduate degree from the University of Oregon in 2015.
 For emergency rent assistance, call the Community Alliance of Tenants (503-288-0130) or Springfield Eugene Tenant Association (541-972-3715) Hotlines or their local legal aid office. (www.oregonlawhelp.org).