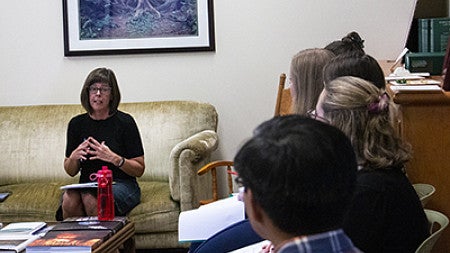 Some of the nation's leading scholars in the field of environmental law expose students to emerging problem-solving tools in cutting-edge courses and provide practical training skills-based courses.
---
Related Concentrations
University of Oregon School of Law offers optional concentrations. Earning a certificate in a particular concentration area helps ensure a full understanding of that area of the law.
For students interested in environmental issues, there are two environmentally-focused concentrations to pursue:
As well as environmentally-aligned concentrations: 
Green Business Law
International Law
Law & Public Policy and Public Interest

Concentrations
---
Concurrent Degrees
JD/MS or MA in Environmental Studies
Offered by the law school and the College of Arts and Sciences Environmental Studies Program, this concurrent degree program results in two degrees in four years rather than the standard five. ​​​​​It allows students to study aspects of environmental regulation and resource development from a variety of disciplinary perspectives.
JD/MS in Water Resource Management (with Oregon State University)
Oregon Law and Oregon State University offer concurrent degrees that provide students with an intersection between the law and water resources engineering, science, or policy and management.
---
Courses
Courses highlight the practical aspects of law to convey an understanding of how courts, agencies, legislative bodies, and international forums actually function in the broad spectrum of environmental decision making.
Course List
---
Administrative Law
Advanced Environmental Law Clinic
Climate Change Law & Policy
Comparative Environmental Law
Energy and Law
Environmental Conflict Resolution
Environmental Justice
Environmental Law
Environmental Law Clinic
Environmental Litigation and Practice 
Environmental Moot Court
Environmental and Natural Resources Law Externship
Environmental Policy Practicum
Hazardous Waste Law
Human Rights and the Environment    
Indian Law
International Environmental Law
Journal of Environmental Law and Litigation
Land Trust Conservation Law
Land Use Law
Local Government Law
Natural Resources Law
Non-Profit Organizations
Ocean and Coastal Law
Public Trust Law
Tribal Courts and Tribal Law
Water Resources Law
Selected Environmental Law Coursework
---
First year (1L) (assigned schedule)
Torts
Contracts
Civil Procedure
Property
Constitutional Law I
Criminal Law
Example of Second Year (2L) Coursework
Administrative Law
Comparative Environmental Law
Constitutional Law II
Environmental Law
International Environmental Law
Legal Profession
Natural Resources Law
Evidence
Example of Third Year (3L) Coursework
Energy and the Law
Water Resources Law
Business Associations
Hazardous Waste Law
Land Use Law
Local Government Law
Nonprofit Organizations
Climate Change Law and Policy
---
Professional Development
At Oregon Law, we take your future seriously.
All first-year law students are required to take a professional development seminar. And throughout your time here, you will receive individualized, tailored professional development coaching.
First Year (1L)
Professional Development Seminar
Explore ENR practice areas
Meet with career counselor
Meet with ENR director
Join UO Law Linkedln group
Summer experience
Examples:
-US Department of Justice Summer Clerkship
-Department of Fish & Game
-Vestas-American Wind Technology
-Oregon Clean Water Action Project
-McKenzie River Trust
-Trustees for Alaska; Crag Law
Second Year (2L)
Narrow career exploration to specific employers/locations
Seek out networking opportunities
ENR summer employment
Examples:
-EPA Summer Honors Clerk
-Our Children's Trust
-Council for Environmental Quality/Lawyers for Clean Water
-Environmental Law Alliance Worldwide
-Bonneville Power Administration
Third Year (3L)
Apply for jobs and post-JD opportunities