Academic Excellence Program | John E. Jaqua Library | Accommodations
---
Oregon Law School's comprehensive curriculum supports your individual academic journey. We want you to feel confident the whole way through law school and be set up for success in your law career.  To ensure that we can dynamically support your journey with us, we offer programs and resources designed to enhance and enrich your education.
---
The Academic Excellence Program
Our Academic Excellence Program helps you develop strategies to succeed from your first year of law school through graduation and the bar exam. Opportunities include 1L workshops, tutoring, bar exam support, and academic advising.
First-year Workshops:
---
Through a series of workshops and small group sessions offered during your first year, you will be introduced to key skills for success including case briefing, outlining and synthesis, legal analysis, and exam-taking skills.
Tutoring:
---
As a 1L student, you will have the opportunity to work with and learn from second- and third-year law students, called Expert Learning Tutors. Under the supervision of the AEP Director, Ex-L Tutors lead 1L workshops and meet with students in small groups and individually.
Bar Support & Advising:
---
In your third year of law school, you can take advantage of multiple opportunities that support your success on the bar exam. These opportunities include:
Bar Prep Fundamentals, a 3 credit course that helps you to begin developing skills for success on the bar exam.
A bar review course at no cost.
A supplemental bar program during your bar study period. This allows you to meet on a regular basis with the Director of the Academic Excellence Program to practice key skills, review doctrine, and receive feedback.
Academic Advising:
---
While all faculty members play a key role in providing academic advising to the students, the Academic Excellence Program helps you set the groundwork for that guidance to navigate graduation requirements and find the right mix of courses to support your success both in law school and on the bar exam.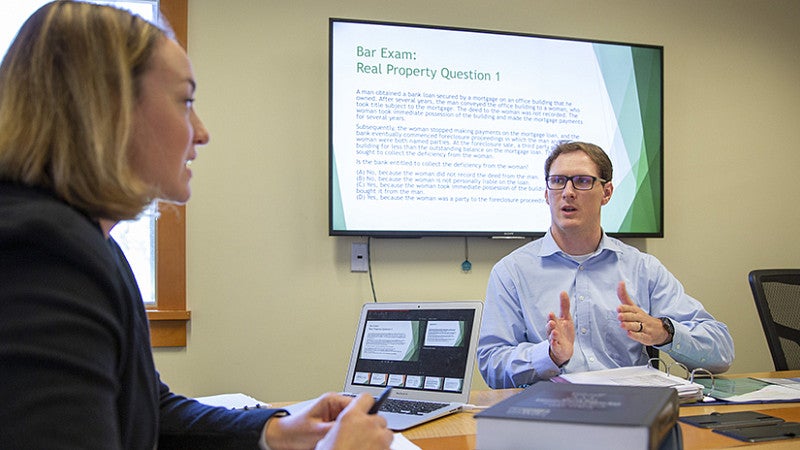 ---
The John E. Jaqua Law Library
Open from 7:30 a.m. to midnight, the John E. Jaqua Law Library is located on the second floor of the Knight Law Center. We know that you and your classmates will spend a lot of time here during your legal education. Our exceptional Librarians and Law Library staff actively support the student learning experience and contribute to advancements in teaching, research, scholarship, and public service.
Visit the Law Library for more information about what is offered.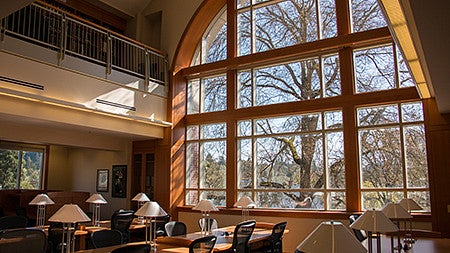 ---
Disability Accommodations
We strive to provide a welcoming and accommodating atmosphere for all of our students, including and especially our students with disabilities. Whether your disability is physical, cognitive, or psycho-emotional, we are committed to providing you support so that you can excel inside the classroom and outside of it.
Contact Student Affairs to learn more about the accommodations available.