The purpose of the Galen Endowment for the Advancement of Legal Writing, established thanks to a substantial gift from alumnus Morris Galen (Oregon Law, '50), is to enhance legal writing education for Oregon Law students.
Galen Endowment funds have enabled us to provide additional writing courses, increase the emphasis on writing in doctrinal law courses, support student writing in law journals, and create awards to celebrate outstanding student writing.
---
Galen Scholar in Legal Writing
One of the primary initiatives of the Galen Fund is to support faculty members serving as the Galen Scholar in Legal Writing.
Each year, the LRW Program awards a stipend to a faculty member for developing projects for a particular theme.
Many of the Galen Scholars' contributions have become valued and permanent fixtures in the legal writing landscape at Oregon Law.
---
Current Galen Scholar
LRW Professor Elizabeth Ruiz Frost is the 2018–20 Galen Scholar. Professor Frost's current research will enable her to develop curriculum to address reading comprehension deficits in adult learners, recognizing that careful reading is required for accurate writing.
As the inaugural Galen Scholar recipient, she instituted first-year and upper-level writing awards that are given to students each year.
Professor Frost will continue leading two sessions that she developed in 2017–18 as the school's writing specialist:
Throwback Thursday – opportunities to review discrete points of grammar, punctuation, and proofreading
"Just Write" Sessions – three-hour blocks of focused time for major writing projects.
Previous Galen Scholars include:
---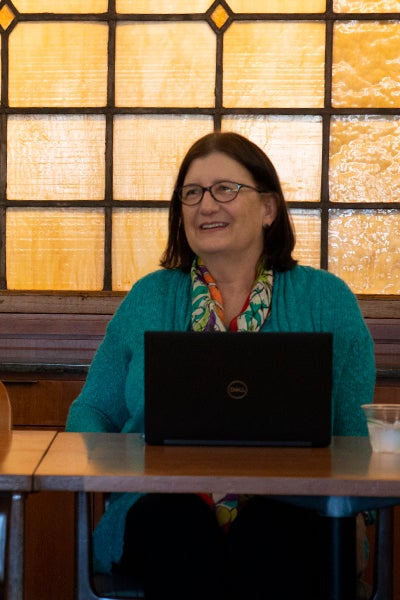 Galen Distinguished Guest in Legal Writing
The Galen Endowment brings brings distinguished professors and practitioners to Oregon Law each year to work with students, faculty, and other groups on enhancing student writing.
The 2019-20 Galen Distinguished Guest in Legal Writing is the Honorable Jean Rosenbluth. Before becoming a federal magistrate judge in Los Angeles, Judge Rosenbluth was the Director of Legal Writing and Advocacy and a Clinical Professor of Law at the University of Southern California Gould School of Law. She was also an academic contributor to the eighth edition of Black's Law Dictionary and active member of the Association of Legal Writing Directors and the Legal Writing Institute.
During her visit, Judge Rosenbluth engaged with Oregon Law students, faculty, and administrators. Her discussions of writing and legal education were informed by her broad range of experiences as a judge, federal prosecutor, journalist, and legal writing expert.  
Previous Distinguished Guests included:
Professor Leslie Culver, 2018-2019
Anne Egeler, 2017–18
Mary Beth Beazley, 2016–17
Melissa Waresh, 2016–17
---
Student Writing Awards
The Galen Endowment supports two student writing awards that celebrate excellent student writing.
The Excellence in Legal Writing Award is presented to second- and third-year JD students and master's law students each semester.
A faculty committee selects the recipients' papers based on originality and relevance of the topic; cogency, logic, and reasoning in the analysis; and clarity of grammar, organization, citation, and writing style.
The Excellence in Written Advocacy Award recognizes excellent writing produced by first-year Legal Research and Writing students at Oregon Law.
The LRW faculty selects recipients based on the appellate briefs students write in the spring semester of the course; the criteria include analysis, research, persuasiveness, and clear writing.