Have fun, learn about sports law, and earn 6 credits toward graduation!
Learn from world-class law faculty and network with top industry professionals. Study and play with like-minded students from around the nation in the beautiful Pacific Northwest. At this time, we plan to will use a hybrid format this summer, with students and faculty able to choose between attending remotely and attending in person. For in-person attendees, university policies around masks, observing social distancing, and self-symptom monitoring will apply. Organized excursions available as health and safety conditions allow.

Why Oregon Law? Oregon is the headquarters of Nike and Adidas, the heart of American track and field, and the home of the Ducks. We even helped pass Title IX.
---
Academics
The UO Summer Sports Law Institute emphasizes the legal and intellectual breadth of sports law, from economics to regulation, and Title IX to intellectual property.
---
During the five week session you will study:
Antitrust
Labor law
Intellectual Property and licensing issues
Title IX
NCAA compliance
International sports arbitration
Torts
Impact of COVID-19 on the sports industry
We know that not every student who is interested in sports law will go on to actually practice in sports law, and with that in mind we treat sports law as a subset of business law. By using the sports industry as a case study, we train you to be not only a great sports lawyer, but also an excellent business lawyer.
We offer true expertise in today's world of sports law – without the time or expense of an LLM.
---
Careers
Sports law is an ever growing and evolving field. According to the American Bar Association, the increasing number of jobs available in the field of sports law include attorneys working for state agencies, inside or outside counsel for professional teams, and counsel for college or high school athletic departments.
Litigator
Transactional Attorney
Athletic Compliance Officer
Agent
---
"The University of Oregon School of Law Sports Institute is a great experience for those interested in a career in sports law. It provides a great educational opportunity, beneficial discussions about important topics, networking opportunities, and fun. I would highly recommend a program like this to any aspiring sports attorneys."
—Dale Hutcherson, '16 Oregon Summer Sports Law Institute alumni
---
Faculty
In addition to some of the nation's top law professors, each summer's session features guest speakers from the professional sports industry, the media, the NCAA, and other organizations.
Past faculty and speakers have included:
the directors of the sports law and business programs at Marquette, Tulane, Villanova, USF, Pepperdine, and New Hampshire
a former chair of the NCAA Committee on Infractions
reporters for Sports Illustrated and ESPN
lawyers from NIKE, Adidas and Columbia Sportswear
in-house counsel from the Seahawks, Diamondbacks, Sounders, and Trail Blazers
league and regulatory counsel from the NCAA, USATF, WTA, Pac-12, and USADA
sports agents and compliance officers
deans, former deans, chaired professors, and casebook authors from top universities across the nation
---
Paying for Sports Law
Most students finance their program fees and living expenses through federal financial aid or loans.
---
About Us
Our primary goal is to provide learning opportunities for students whose home law schools do not offer significant content regarding sports law.
At the University of Oregon's award-winning Summer Sports Institute, we gather together many of the industry's top professors and students for a cutting-edge study of the myriad legal issues facing today's sports lawyers. We study IP, labor and employment law, antitrust, contracts, and more - everything an aspiring sports lawyer needs to know. Plus, we make the summer even more fun and rewarding by supplementing the best possible classroom learning with a host of special speakers and events. 
---
Apply
Join us at the University of Oregon School of Law for one of the best online educational experiences you'll ever have!
---
Support Sports Law
Oregon Law is proud to provide students with excellent teaching, skills-based learning opportunities, and rich, diverse programs.
Help us continue our work. Consider supporting the OSSLI!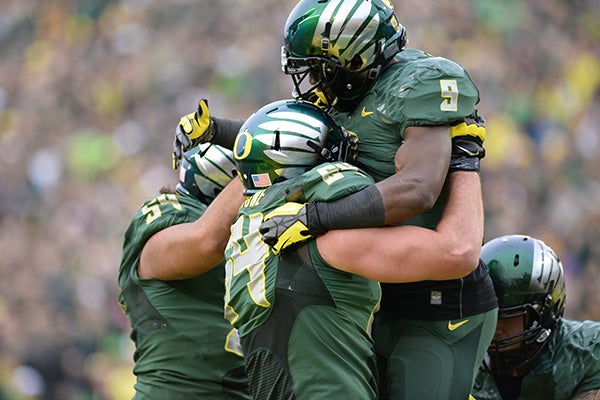 Support OSSLI
---
Social Media