Our students want to meet you.
---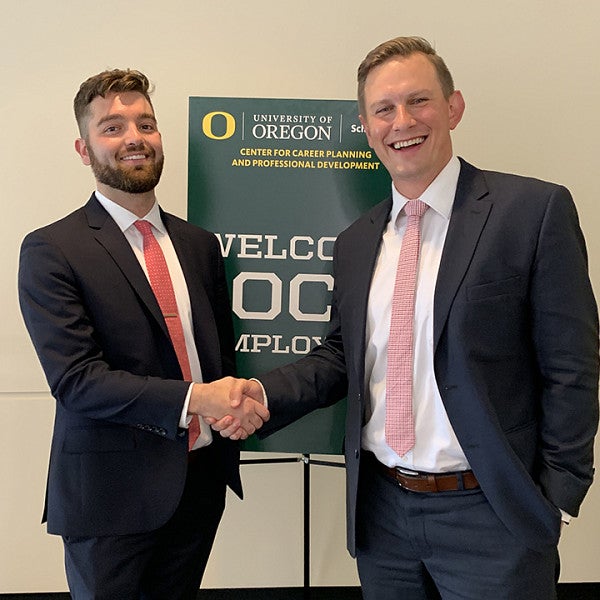 "I can think of no other similar interview opportunity where an employer is able to achieve meaningful interactions with top-quality candidates in a condensed time period. And while we cannot select every candidate for a position, OCIs allow me to connect with each student by sharing information about our firm, and my practice." 
 — John S. Wilson, JD '08, Partner at K& L Gates 
---
Greetings from the Career Center. We encourage you to reach out to us to discuss your recruiting needs. Every year we host fall and spring On-Campus Recruiting and Resume Collection Programs (OCIs). We are very enthusiastic about introducing you to our current students and graduates. 
If you have questions, please contact Felipe Alonso Associate Director, at falonso@uoregon.edu and (541) 346-3809. 
---
FALL 2023 ON-CAMPUS INTERVIEW SCHEDULE
We have set aside the following dates to interview Oregon Law students:  
*Updated dates* Law firms and businesses are scheduled for August 7-11, 2023 (OCI Week 1). 
Public sector and public interest employers are scheduled for September 25-29, 2023 (OCI Week 2).   
We encourage entities to join us during the identified dates, however we can make other accommodations as needed throughout the academic year.  Please contact us and we can discuss options. 
Interviews will continue to be conducted remotely.  
FIRST-TIME REGISTERING IN SYMPLICITY
If you are registering in our Symplicity system for the first time as an employer:
1. Go to the Symplicity Employer Log-In Page
2. Click on "Register" under log-in fields
3. Fill out the requested information and click "Submit"
4. You will receive an email within 48 hours with a Symplicity username and password
REGISTRATION FOR EMPLOYERS INTERVIEWING FOR OCI
1. Log on to Symplicity.
2. Choose "View Schedule Requests" from the "Shortcuts" list on the right hand menu
3. Click on the "Request Schedule" button
4. Choose "OCI Week 1 (Fall 2023)" or "OCI Week 2 (Fall 2023)" from list of schedules
5. Please fill out as much detailed information as possible and click "Submit"
6. Registration confirmation will be sent by email within 48 hours
REQUIRED DOCUMENT
Send by email to the Career Center.