Our students want to meet you.
---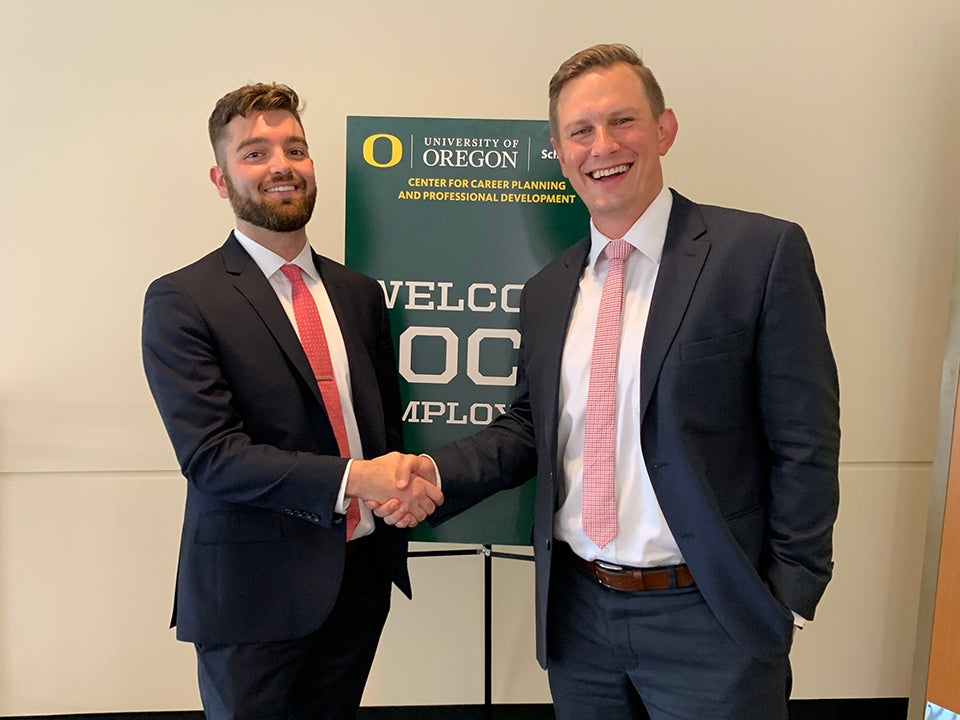 "I can think of no other similar interview opportunity where an employer is able to achieve meaningful interactions with top-quality candidates in a condensed time period. And while we cannot select every candidate for a position, OCIs allow me to connect with each student by sharing information about our firm, and my practice." 
 — John S. Wilson, JD '08, Partner at K& L Gates 
---
Welcome from the Career Center. We encourage you to reach out to us to discuss your particular recruiting needs. Every year we host fall and spring On-Campus Recruiting and Resume Collection Programs (OCIs). We would like to introduce to our current students and graduates. We can facilitate interviews at the Eugene and Portland campus, as well as remote interviews from any location.
If you have questions, please contact Melissa Panter, Career Center Manager, at lawcareer@uoregon.edu and (541) 346-3883 or Felipe Alonso III, Associate Director for Career Planning and Professional at falonso@uoregon.edu and (541) 346-3809. We look forward to seeing you on campus soon!
---
FALL 2020 AND SPRING 2021 ON-CAMPUS INTERVIEW DATES
This year, we encourage private law firms to visit campus August 11–14. Public sector and public interest employers are welcomed at the same time, but we offered a concentrated week of government and public interest interviews September 22–25. We also will be hosting OCI in January/February 2021 (dates to be determined in consultation with individual firms). 
We are also happy to accommodate employers on other dates and throughout the academic year.
FIRST-TIME REGISTERING IN SYMPLICITY
If you are registering in our Symplicity system for the first time as an employer:
1. Go to the Symplicity Employer Log-In Page
2. Click on "Register" under log-in fields
3. Fill out the requested information and click "Submit"
4. You will receive an email within 48 hours with a Symplicity username and password
REGISTRATION FOR EMPLOYERS INTERVIEWING ON-CAMPUS
1. Log on to Symplicity.
2. Choose "View Schedule Requests" from the "Shortcuts" list on the right hand menu
3. Click on the "Request Schedule" button
4. Choose "2020 Fall OCI" from list of schedules
5. Complete the required information and click "Submit"
6. Registration confirmation will be sent by email within 48 hours
REGISTRATION FOR RESUME COLLECTION (for employers not interviewing on campus)
1. Log on to Symplicity
2. Select "Create Job Posting" under Shortcuts.
3. Complete the posting form, indicating "Resume Collect" at the end of the job title
4. You may request that applications be collected in our system (Accumulate online) or that applicants submit directly to you by your preferred method
5. When finished, click "Submit." Posting confirmation will be sent to you within 48 hours
REQUIRED DOCUMENTS
Signed Non-Discrimination Policy form (1 copy).
Firm Resume or link to website (1 copy).
NALP form or link to NALP page for employers that belong to NALP (1 copy).
Mail to University of Oregon School of Law, Career Planning and Professional Development, 1221 University of Oregon, Eugene OR 97403-1221; fax to (541) 346-3584 or send by email to the Career Center.