14
consecutive years
in the top ten
This ranking reflects wide recognition of Oregon Law's excellent program for students and the national leadership of its faculty.
---
Our History
Oregon Law's Legal Research and Writing (LRW) Program was established in 1978, making it one of the first in the nation to ensure fundamental lawyering skills were taught by full-time professionals.  The founding director was Professor Emerita Mary Lawrence, who led Oregon's program until 2000 and continues to have an impact on the national legal writing community. 
Mary S. Lawrence, Professor Emerita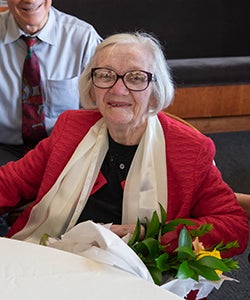 Mary S. Lawrence is a national leader in the LRW field and has received numerous awards recognizing her work. She received the first award for distinguished service given by the Section on Legal Writing, Reasoning, and Research of the Association of American Law Schools as well as the inaugural Marjorie Rombauer Award. In January 2013, she received a special award from the boards of both the Association of Legal Writing Directors and the Legal Writing Institute. Also in 2013, she was selected to receive the Burton Award for Outstanding Contributions to Legal Writing Education.
---
Contact Us
Mailing Address:
Legal Research and Writing Program
University of Oregon School of Law
1221 University of Oregon
Eugene, OR 97403-1221