Interested in ADR-related research?

Talk to an ADR faculty member about opportunities to work on the faculty member's current research or to develop your own research plan.
Research examples include:
restorative justice
negotiation pedagogy in international contexts
conflict resolution in schools
---

Experimenting with ADR: Dispute resolution professors gather in Portland to innovate
 
On February 27-29, 2020, eleven prominent junior leaders in the field of alternative dispute resolution (ADR) met at the University of Oregon's Portland campus to present new research and discuss the development of the field.
Jen Reynolds, the faculty director of the Oregon Appropriate Dispute Resolution Center, organized the conference as part of Oregon Law's annual works-in-progress series.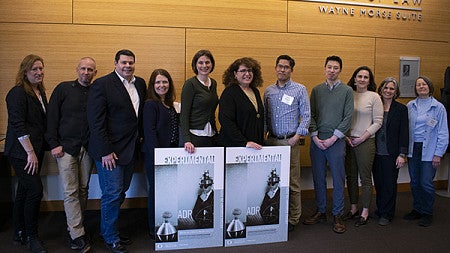 The gathering was called "Experimental ADR" because the focus of the conference was identifying trends and innovations in scholarship and practice related to dispute resolution.
"ADR has become mainstream across civil law and business," Reynolds said.  "Many of the thought leaders in the field today are working in areas that have previously been thought peripheral to the field, such as technology, systems design, legislation, activism, leadership, and criminal law.  It was amazing to have a chance to delve deeply into the work our participants are doing in these areas and to talk about what the future of the field could be."
Participating in the conference were Cynthia Alkon (Texas A&M); Hiro Aragaki (Loyola LA); Alyson Carrel (Northwestern); Amy Cohen (Ohio State); Michael Colatrella (Pacific); Noam Ebner (Creighton); Deb Eisenberg (Maryland); Lydia Nussbaum (Nevada); Carol Pauli (Texas A&M); Jen Reynolds (Oregon); and Rachel Viscomi (Harvard).  Oregon Law professors Stuart Chinn and Liz Tippett also served as readers and commentators.  Emily Wanner, managing director of the law school's Portland Program, organized the event.
Experimental ADR was the third installment of the University of Oregon School of Law's works-in-progress conference series.  The first was "State and Tribal Action on Climate Change in a Time of Federal Uncertainty" (2017), hosted by the Oregon Law Environmental and Natural Resources Center.  The second was "Law and Politics Under Stress" (2019), hosted by Oregon professors Stuart Chinn and Dan Tichenor.