The Outstanding Recent Alumni Award is awarded to an Oregon Law graduate who has made significant career, leadership, or service contributions to their community, the School of Law, or the legal profession. The award recognizes accomplishments within their first 10 years after graduation.
* Nominations are solicited by Oregon Law and the LSAA and a committee of Oregon Law alumni selects the annual recipient.
---
2023 Award Recipient
Judge Robert Johnson, JD '14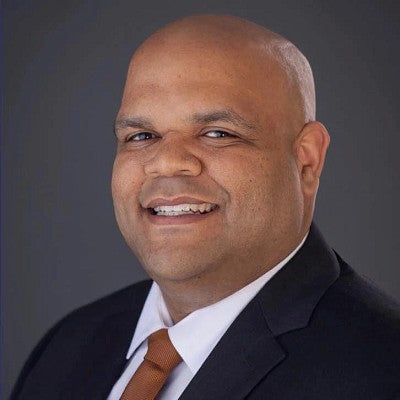 Judge Robert Johnson, JD '14, began his legal career as a law clerk with the 16th Judicial District Circuit Court of Oregon in Douglas County. In 2022, he became the first black judge to be elected in the history of Douglas County. Now, as a Circuit Court Judge, his jurisdiction is the H.O.P.E drug court, an intensive court monitored treatment program that combines alcohol/drug treatment with judicial oversight using a collaborative team approach. The program serves as a felony diversion and post-incarceration program.
Prior to joining the bench, Judge Johnson was a successful litigator and partner at the Law Firm of Dole Coalwell.
Judge Johnson is passionate about people, progress, and perspective. He uses his upbringing to empathize, understand, and connect with the people appearing before him. After facing adversity early in life – from growing up frequently homeless, loss of both of his parents at age 20, to living in his car, Judge Johnson dedicated himself to showing others that it was possible to attend and graduate law school despite low grades in high school, and the challenge of dyslexia that made reading difficult for him.
When he is not in the courtroom, Judge Johnson spends time as an assistant coach for the Roseburg High School Boys varsity basketball team and engages in many other community related service projects. He is also very involved in the community, including serving as a board member of the Umpqua Community College Foundation, the Douglas County Parks Advisory Board, and CASA of Douglas County. 
Judge Johnson is a member of the Oregon Government Ethics Commission and a member of the Oregon Trial Lawyers' Association. He was raised in Oregon and, after attending Umpqua Community College, received his BA from Portland State University and his JD from the University of Oregon.  
2022 | 2021 | 2020 | 2019 | 2018 | 2017 | 2016 | 2015 | 2014
---
2022: Bryan Boender, JD '12 and Jason Tashea, JD '12
Bryan Boender is a founding partner of Boender & Payment, Attorneys in Eugene, Oregon. The firm practices criminal defense, family law, estate planning and business law. Boender is the firm's primary criminal defense lawyer, with a focus on defending major crimes in state and federal court. He was a member of the last capital defense team to try a death penalty case through penalty phase in the Lane County Circuit Court. He is a co-founder of the Veterans Legal Clinic in Eugene, a collaboration between the non-profit law firm Access the Law and the U.S. Department of Veterans Affairs. The clinic has served more than 1,000 veterans since it was established.  
Boender graduated from the University of Oregon Law School in 2012 with his J.D. and certificates of completion in Criminal Practice and Public Interest Public Service. He was the J.D. class commencement speaker. The Law School awarded Boender the Nicole Richardson Outstanding Pro Bono Award. The Pat Tillman Foundation honored Boender as a Tillman Military Scholar. He clerked for Public Defender Services of Lane County during his 2L and 3L years. Boender was a student board member for the Public Interest Public Service program. He is a former community board member of the Oregon Law Students Public Interest Fund.  
Jason Tashea is an award-winning journalist, entrepreneur and law professor making sense of law and technology. A lawyer by training, he is a consultant for the World Bank on access to justice and technology issues. He was most recently a product manager at a justice technology startup and an adjunct professor of law at Georgetown University Law Center, where he created and taught a practicum on criminal justice technology, policy, and law, and the law and technology reporter for the ABA Journal.
He has traveled around the globe speaking on artificial intelligence and legal issues, as well as been an invited expert by the U.S. Government and Accountability Office and the National Academies of the Sciences.
He is a member of the Institute of Electrical and Electronics Engineers' Law Committee, an inaugural member of the Legal Services Corporation's Emerging Leaders Council and co-founder of the Baltimore Legal Hackers. For five years, he operated Justice Codes, a consultancy he founded that built, deployed and studied the impact of technology on the justice system. After law school, Jason was awarded a Fulbright Fellowship to research justice reform in the Republic of Kosovo. 
---
2021: Moorisha Bey-Taylor, JD '11, Michael Steven Brewer, JD '12, Sigvanna "Meghan" Topkok, JD '17
Moorisha Bey-Taylor is the founding partner of the Law Office of Moorisha Bey-Taylor and is an intellectual property lawyer. Bey-Taylor was recently named "Top Lawyers Under 40 – Nation's Best Advocates," by the National Bar Association. Bey-Taylor has a repertoire of high-profile clients, is a member of Forbes Magazine's Forbes the Culture Collective  - a hub for elite leaders of color who are breaking barriers and impacting culture globally, and sits on the Board of Black Women Lawyers in Los Angeles.
Criminal defense lawyer Mike Brewer has been practicing criminal defense and family law since graduating from Oregon Law in 2012. Most recently, Brewer's primary practice includes representing defendants whose cases were implicated by the recent United States Supreme Court decision in McGirt v. Oklahoma that resulted in the majority of the Northern and Eastern Districts being legally reaffirmed as Indian Country. His passion is helping underserved rural and native communities make it through an unjust system as unscathed as possible.
Sigvanna "Meghan" Topkok is the Staff Attorney at a tribal Consortium, Kawerak, Inc. in Nome, AK, providing legal services to 19 tribes in the Bering Strait region. Topkok is passionate about increasing diversity in the bar and uses her role as the New Lawyer Liaison on the Alaska Bar Association Board of Governors to advocate for increased awareness of systemic barriers that Black, Indigenous, and people of color face in entering the legal profession.
---
2020: Iván Resendiz Gutierrez, JD '15, Dawn Jagger, JD '13
Iván (pronounced "ee-v-AA-n") Resendiz Gutierrez is a proud "Double Duck." He received his bachelor's degree from the University of Oregon in 2012 before earning his law degree at the University of Oregon School of Law in 2015. After law school, Iván served as a judicial clerk for the Honorable Lynn R. Nakamoto at the Oregon Supreme Court and the Oregon Court of Appeals. He is now a litigation and appellate attorney on Miller Nash Graham & Dunn LLP's appellate, education, and employment and labor relations practice teams.
Iván is active in the Oregon legal community, currently serving as co-chair of the Oregon Minority Lawyers Association and co-chair of the Diversity and Inclusion Committee of the Federal Bar Association Oregon Chapter. He also serves as the vice-chair of the Board of Directors of Legal Aid Services of Oregon and as an Executive Committee member-at-large of Oregon Law Center's Board of Directors, allowing him to help provide high quality legal services to low-income communities across Oregon.
Iván enjoys mentoring new lawyers and law students and routinely participates in programs aimed to increase diversity, equity, and inclusion in the Oregon legal community.
Iván has been recognized by national, state, and local organizations, including the Hispanic National Bar Association's "Top Lawyers Under 40" Award, Oregon Super Lawyers Rising Stars, Best Lawyers: Ones to Watch, and the Oregon State Bar President's Diversity & Inclusion Award.
Dawn Jagger is a double Duck. She received her BA degree from the University of Oregon in political science and her JD from the University of Oregon School of Law in 2013. After law school, Dawn worked for three years at the Oregon Department of Consumer and Business Services from 2014-2017 in several roles, most recently as the senior health policy and communications advisor to the director. She is now the Chief of Staff for the Oregon Health Authority, Oregon's agency that oversees nearly all aspects of health and health care systems with over 4400 staff and a biennial budget of over $22 billion. Her portfolio includes a primary leadership role in the agency's efforts to address the wide range of health and associated challenges Oregonians experience in the current COVID-19 pandemic and in the planning and implementation of the agency's 10-year strategic plan to eliminate health inequities. Dawn also oversees OHA's government relations, Ombuds and Communications teams.
Dawn has always had a strong commitment to public service and a passion for helping Oregonians. Her current focus is to elevate and amplify the voices of Oregon's communities of color and work to co-create solutions to achieve health equity in our state. In her spare time, you will find Dawn hiking, skiing, backpacking, or snowshoeing with her greater Swiss mountain dog, Zoe.
---
2019: Craig Ashford, JD '11, Lauren Blaesing, JD '11, Catherine Jedlicka, JD '13, Joel Sturm, JD '12
Craig Ashford previously worked for the Office of Chief Counsel for the Internal Revenue Service in Salt Lake City, Utah, and for Latham & Watkins in London, England, before joining the Office of the General Counsel at the University of Oregon in 2014. His expertise is in tax law, contracts, real estate transactions, due diligence analysis on bonds, sales, and tax litigation. He regularly guest lectures in Oregon Law classes, serves as the main coach for the law school Tax Moot Court team and recruits students for the General Counsel externship. Whether a student is interested in pursuing a career in tax law or an externship at the General Counsel's office, Ashford is always available to support those interests by giving advice and assistance. His enthusiasm and energy are infectious. Ashford earned a BA from Brigham Young University. He graduated first in his class from Oregon Law with honors from the Order of the Coif.
Lauren Blaesing is currently a Shareholder at Markowitz Herbold PC. As a trial lawyershe litigates cases involving partnership and commercial lease disputes, as well as financial elder abuse, business torts, breach of contract, and professional negligence claims. Before joining Markowitz Herbold, Blaesing served as a judicial law clerk for the Honorable David Schuman JD '84, of the Oregon Court of Appeals. Since graduating, Blaesing has remained involved in the Oregon Law community. She has served as a mentor for 1L students and she routinely organizes and hosts networking events at Markowitz Herbold for 3L students in the Portland Program. Blaesing is recognized as a Rising Star by Oregon Super Lawyers® magazine. She is the Board Vice President of St. Andrew Legal Clinic (SALC) and volunteers at SALC's night clinic for low-income individuals and families. Lauren is a member of the Multnomah Bar Association, Oregon Association of Defense Counsel, and the Federal Bar Association. Blaesing graduated from Oregon Law as a member of the Order of the Coif. She received her BA from Barnard College.
Catherine Jedlicka has built a successful career. She has served as a judicial law clerk at the Lane County Circuit Court and as a Social Security Disability law clerk at the U.S. District Court for the District of Oregon. Currently, Jedlicka is an Associate Attorney at Watkinson Laird Rubenstein, P.C. Her current practice focuses on estate planning and administration, including drafting wills and trusts, probate administration, and tax planning. She has maintained a strong relationship with the School of Law, by assisting part-time in the Oregon Law Career Center where she helps students and alumni with cover letter and resume review.  Jedlicka is also a mentor to current law students, using her varied legal experiences to answer questions about state and Federal clerkships and the private practice of law. Jedlicka is the outgoing chair of Lane County Women Lawyers, and serves as mock trial coach for North Eugene High School, representing the law school to the community and building future generations of lawyers through the program.  She received her JD from Oregon Law and her undergraduate degree from the University of California, Berkeley.
Joel Sturm is a Trial Attorney at Thuemmel Uhle & Eder. Born and raised in Portland, Sturm became an attorney to advocate for a community he cares deeply about. His passion for helping people inspired him to use his experience, in the courtroom and representing a large insurance company, to aid injured people in maximizing their recoveries in a way other lawyers cannot. This passion drives him to get the best results in every case. Sturm is an active member in the legal community serving in various positions within the Oregon New Lawyers Division promoting continuing legal education, and outreach to high schools in the community.  He has been selected to speak at various continuing legal education courses for lawyers, presenting on topics such as e-filing, depositions, trial practice and driving under the influence of intoxicants. Sturm received his undergraduate degree from Gonzaga University and his JD from Oregon Law.  Prior to starting his legal career, Sturm and his wife were volunteers at a school in Peru where they started a sports program for elementary age students.  
---
2018: Nadia Dahab '12, Sarah Einowski '09, Emily Farrell '09, and Vanessa Nordyke '08
Nadia Dahab is a trial and appellate advocate with a practice that focuses on complex business disputes, securities fraud, employment, property law, and the environment.  Nadia is the outgoing President of the Oregon Chapter of the Federal Bar Association and, in 2017, received the "New Lawyer of the Year" award from the Oregon Trial Lawyers Association.  She volunteers her time with both Franklin High School's "We the People" constitution team and as a board member for the Arab American Cultural Center of Oregon. Endlessly committed to pro bono work, especially around immigration issues, Nadia has worked on a number of immigration matters, including recent litigation arising out of the government's decision to detain immigrants without access to counsel at the federal prison in Sheridan, Oregon.  In June 2018, on behalf of both the Innovation Law Lab and the ACLU of Oregon, Nadia spoke at the Families Belong Together rally in Portland.
Sarah Einowski joined Tonkon Torp's Estate Planning Practice Group in 2017 after spending three years at the firm as a litigation associate. With a strong commitment to civic involvement and supporting her community, she serves on the ACLU of Oregon's Lawyers Committee and handles numerous pro bono matters for the ACLU. Sarah also serves as a board member for the Oregon League of Minority Voters and served as a coach for the Jefferson High mock Trial team.
Emily Farrell joined Oregon Law as Associate Director for Career Planning and Professional Development in 2016. Extremely dedicated to Oregon and her community, she has volunteered consistently with Lane County Legal Aid and Advocacy Center's Senior Law Clinic and has served on the Lane County Bar Association executive board. She also has participated as an advisory member of the Oregon State Bar Legal Futures/Innovations Task Force, Incubator Subcommittee, Paraprofessionals and Alternative Practice Subcommittee, and Quality of Life Committee.  Emily is currently President Elect of the Board of Directors for the HIV Alliance, and she has received the Diversity Recognition Award from the Minority Law Students Association. 
Vanessa Nordyke is the youngest ever-elected President of the Oregon State Bar (OSB) with over 19,000 members. As President, Vanessa engages with the Oregon legal community on issues such as wellness, pro bono service, new lawyer mentoring, technological innovation, and access to justice. She has urged lawyers to give back to their communities and find meaning through service to others. Vanessa has volunteered for groups like the OSB House of Delegates, Campaign for Equal Justice, OSB Judicial Administration Committee, Oregon Women Lawyers, Marion County Sheriff's Office's Citizen Advisory Committee, Willamette Valley American Inn of Court, and Rotary Club of Salem since becoming a lawyer in 2008.  Vanessa is a 2002 graduate of Georgetown University's School of Foreign Service and a 2008 graduate of the University of Oregon School of Law.
---
2017: Joe Kraus '09, Erin Fair Taylor '08 and Gloria Trainor '08
---
2016: Matthew Kuntz '06, Laura Salerno Owens '07, and Al Kim '06
Matthew Kuntz is a nationally-recognized advocate for effective screening and treatment of post-traumatic stress injuries of returning service members. Born and raised in Helena, Mont. Kuntz received his bachelor's degree from West Point and his law degree from the University of Oregon. He served as in infantry officer in the Army and was recognized as Distinguished Member of the Thirty-Fifth Regiment for his service. As executive director of the National Alliance on Mental Illness-Montana, Kuntz led advocacy efforts on behalf of Montana's service members and their families; to establish mental health peer services in the state; to develop children's mental health crisis beds; to prevent the incarceration of offenders with serious mental illness, and more. He was also instrumental in the development of the Center for Mental Health Research and Recovery at Montana State University. Kuntz is partner at Boyar & Kuntz, PLLC and is a member of the Board of Directors of the Uganda Rural Fund USA, Inc.  He recently released his latest book, "Looking for Answers Through Dirty Glasses: Finding the Divine in a Challenging World."
Laura Salerno Owens is a trial lawyer with broad experience representing employers and executives in single and class actions lawsuits. She represents clients in a variety of employment law issues including noncompetition/non-solicitation agreements and trade secrets, wage and hour disputes, discrimination charges, sexual harassment allegations, and whistleblower claims. Salerno Owens has been recognized as a Rising Star by Oregon Super Lawyers for the past four years and was recognized as an Up & Coming Lawyer by the Daily Journal of Commerce in 2012.  She currently serves as president-elect of the Federal Bar Association's executive committee; Ninth Circuit Lawyer Representative, District of Oregon; and is a member of the Attorney Admissions Fund Committee.
Albert "Al" Kim was known for his service to others and his good nature while a student at Oregon Law. Upon graduation, Kim served the public as a prosecutor for several years and later operated a successful law firm in Riverside, CA. Kim passed away in 2016 and is remembered fondly by the class of 2006 as they celebrate their tenth reunion. 
---
2015: Colin Andries '05, Ben Eder '05, David Eder '05, and Traci Ray '07
Colin Andries, a longtime Oregonian and a "Double Duck," grew up in Medford, Ore., graduated from the University of Oregon Clark Honors College in 2002 and earned his Juris Doctor from Oregon Law in 2005. Andries worked as an associate for the Portland firm Foster Pepper specializing in corporate and real estate transactions from 2005-2008. In 2009, he started the Andries Law Offices in Portland, Ore. where he continues to practice and live with his wife Evyan. His varied practice includes corporate transactions, criminal defense, specializing in all driving related violations and crimes, as well as a growing civil litigation practice. Andries also watches and plays sports and has traveled the world to see some of the world's most famous sporting events, including the World Cup, the Olympics, and Wimbledon. He also ran with the bulls in Pamplona and, being up for the challenge, runs the occasional marathon. Andries has been an active member of the Law School Alumni Association and serves as the Secretary on the Board of Directors. He is also a chair-elect of the Oregon New Lawyers Division of the Oregon State Bar.
Ben Eder graduated from the University of Oregon School of Law in 2005. Upon graduation, he became an associate with Thuemmel Uhle. In 2012 he became a partner at Thuemmel Uhle & Eder. In 2013 and 2014, Eder was listed as one of the top 100 trial lawyers by the National Trial Lawyers. In 2011 and 2012, he was named a Top 40 trial attorney under the age of 40 years old, an Up and Coming Lawyer under the age of 40, and a Rising Star from Super Lawyers Magazine multiple times. Eder was awarded the Membership Service Award from the Oregon State Bar in 2011, which is rarely given to a lawyer under 40 years old. As a featured presenter on DUI Defense, cross-examination of police, DMV hearings and jury selection, Eder is frequently asked to share the trial tips that have led to successful trials/hearings. In 2014 and also in 2008, he authored the chapter on conducting Department of Motor Vehicle Hearings for the DUI Notebook, published by the Oregon Criminal Defense Lawyers Association. Eder served as Chair of the Oregon New Lawyers Division and is married to lawyer, Kaori Eder. In their free time they enjoy cooking, traveling and playing kickball.
David Eder, a 2005 Oregon Law graduate, has been recognized locally and nationally as one of the top trial attorneys in the country with a practice that includes personal injury and criminal defense cases. In 2010, 2011 and 2012, Eder was named one of the top 25 lawyers in the State of Oregon under the age of 40. Also in 2011, he was asked to be an instructor at the National Advocacy Center on the topic of jury selection. He was named a Rising Star as one of the 2.5 percent of lawyers in the D.U.I.I. defense field. Before joining Thuemmel, Uhle & Eder, he was an assistant City attorney with the City of Beaverton. Eder's prosecution experience included handling thousands of D.U.I.I. cases, traffic crimes/violations, civil litigation, officer involved shootings and major crimes work. He was the chair of the Oregon New Lawyers Division in 2013. In 2010, Eder developed a program to help underemployed and unemployed lawyers receive training from nonprofit organizations. This program helped numerous lawyers earn practical training experience, jobs while helping those in need. The American Bar Association named it the Young Lawyer Section Program of the Year best program in the country.
Traci Ray (Hopfe), a 2007 graduate of the UO School of Law, is the Executive Director at Barran Liebman LLP, where she guides the firm's management, marketing, attorney development, recruitment and operations. Additionally, she manages the firm's community involvement, public relations, and charitable giving. During her tenure with Barran Liebman, they have been continuously ranked #1 in Labor and Employment Law Firms in Oregon by Chambers & Partners USA and honored by Oregon Business Magazine as one of the 100 Best Companies to Work for in Oregon since. She served as the President of the Multnomah Bar Association's Young Lawyers Section in 2013-14, is a Board Member with ROI Portland and the Oregon Law Foundation, and is the Special Appeal Co-Chair for the Oregon Women Lawyers Foundation Board. She is a member of the Legal Marketing Association, the Association of Legal Administrators, and is the Vice-Chair of the American Bar Association's Law Practice Division Women Rainmakers Committee. She is one of the four national American Bar Association Law Practice Division Fellows for 2014-2015, has been listed as a Rising Star by Oregon Super Lawyers Magazine since 2013, was named a 2014 "Star of the Quarter" by the American Bar Association Young Lawyers Division, and was recognized with the Oregon New Lawyers Division of the Oregon State Bar Project of the Year Award in 2013 for the Wills for Heroes Legal Clinic Program.
---
2014: Jeff Eager '04, Alexander Frix '06, and Adele Ridenour '04
Jeff Eager, a 2004 graduate of Oregon Law, worked in Washington, D.C. prior to law school as a legislative assistant for Congressman Bob Smith and press secretary and legislative assistant to Congressman Greg Walden. During his three years at Oregon Law he served in student government and was elected president of the Student Bar Association. After graduation, Eager served as the campaign manager for Walden for Congress and started his legal career at Karnopp Petersen, LLP in Bend, Oregon. In 2007, he began practicing business law and litigation at Balyeat & Eager, LLP, where he continues to practice today. Eager was elected to the Bend City Council in 2009, and was appointed mayor in 2011. Eager recently founded an Internet based local government affairs startup, Insite LocalGovAffairs.com.
Alexander Frix became a public defender in 2006. He currently maintains a full felony caseload at the Thurston County Office of Assigned Counsel in Olympia, Wash., where he has worked since 2007. Prior to working for Thurston County, he worked in Tacoma at the Pierce County Department of Assigned Counsel as a public defender and in the Lane County District Attorney's Office as an intern during law school. Frix has served as the defense counsel for Thurston County Veterans Court since the court's creation in June 2009, the first Veterans Court in the Pacific Northwest and among only 12 in the nation. In 2012, the Washington Defender Association awarded Frix with a Certificate of Recognition for Innovations in Courts. One year later, he was presented the Outstanding Service to Veterans, Male Non-Veteran Award by the Governor's Veterans and Affairs Advisory Committee and Washington Department of Veterans Affairs. Most recently, Frix received the 2014 Washington State Bar Association's Local Hero Award.
Adele Ridenour graduated from Oregon Law in 2004 and worked as a judicial clerk to former Chief Justice Gerald Schroeder of the Idaho Supreme Court. In 2005, she moved back to Oregon to begin a career in civil litigation. In 2010, Ridenour joined Ball Janik LLP. Her practice focuses on representing property owners, including several affordable housing organizations, in construction defect litigation and related disputes.  Ridenour is a member of Oregon Women Lawyers, as well as an executive board member of the University of Oregon Law School Alumni Association. She is also a former adjunct instructor for the law school.