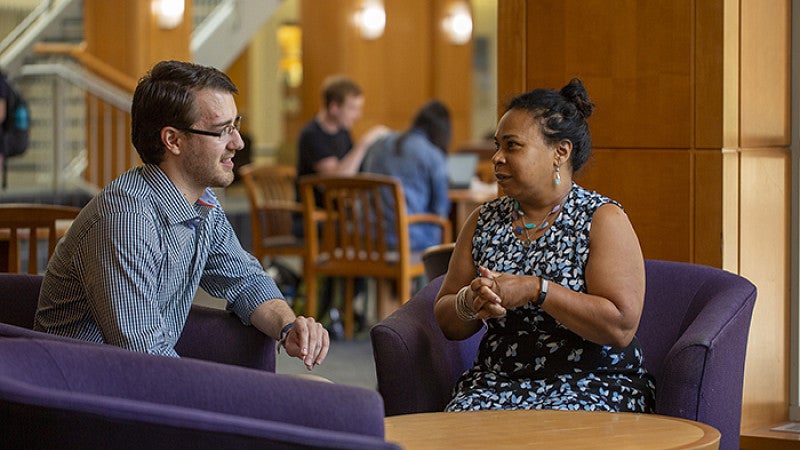 Practice on an international scale.
Oregon Law's approach to international law offers a humanistic view that integrates innovative coursework with practical, real-world experiences through clinics and  externships. You will develop critical legal analysis of a diverse number of legal systems while digging deep into important issues regarding human rights, immigration, and global business transactions. Our program is designed to provide you with a holistic view of global issues and challenges to consider domestic law from a global perspective. 
---
Concentration
---
Careers
As an international lawyer you'll have skill sets including analytical abilities, strength in research and writing, and knowledge of the difference in the world's legal systems and learn how these are embedded in political and cultural contexts. You may work at the regional, national, or international level. You would have the option to work for law firms, the federal government, state government, corporate council, international organizations, nonprofit groups, tribes, unions, and resource management firms.
---
Academics
Sample of International Law coursework
FIRST YEAR (1L) (Assigned)
Torts
Contracts
Civil Procedure
Constitutional Law I
Criminal Law
Property
SECOND YEAR (2L) & THIRD YEAR (3L)
Required and recommended bar prep courses
Human Rights Law
International Law
International Business Transactions
International Criminal Law and Transitional Justice
International Environmental Law
Law and Development
---
Concurrent Degree Options
---
 Research
Oregon Review of International Law (ORIL)
ORIL is a student-run journal of the University of Oregon School of Law that publishes articles by academics, practitioners, and students addressing current legal topics in international law and policy.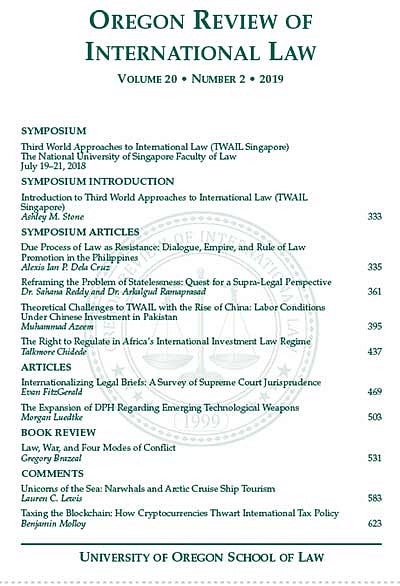 ---
Practical Experience
Clinics & Field Placements
---

International Law Field Placements:

Center for Justice and Accountability
Center for Refugee and Gender Studies
The Florence Project
Nexos Voluntarios
ProBusqueda
---
Professional Development
Types of available practical experiences
FIRST YEAR (1L)
Legal Research and Writing
SECOND YEAR (2L)
Trial Practice
Judicial Field Placement
Interviewing and Counseling
THIRD YEAR (3L)
Criminal Defense Clinic or Criminal Prosecution Clinic
Federal Jurisdiction
Writing in Law Practice
Criminal Justice Field Placement
---
Professional Development
At Oregon Law, we take your future seriously. As a law student, you will take a required professional development seminar your first year.
You will also receive individualized, tailored professional development coaching from a professional who will guide you to make strong career choices throughout your time at Oregon Law.
FIRST YEAR (1L)
Professional Development Seminar
Explore International Law practice areas
Meet with career counselor
Join UO Law Linkedln group
Apply for summer field placements
SECOND YEAR (2L)
Narrow career exploration to specific employers/locations
Seek out networking opportunities
Apply for summer field placements
THIRD YEAR (3L)
Apply for jobs and post-JD opportunities
---
Extracurriculars
International Law Society
Multicultural Law Student Association
Volunteer for an international nonprofit
Oregon Review of International Law
Join the International Law section of the Oregon Bar as a student member
---
Faculty Highlight — Michael Fakhri
ASSOCIATE PROFESSOR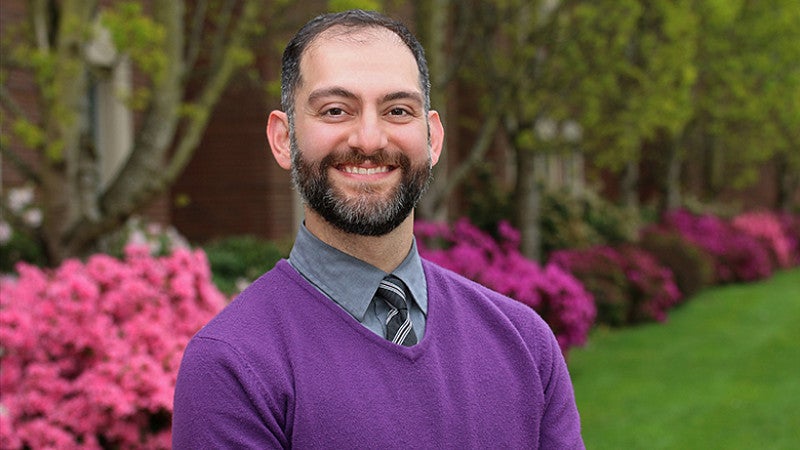 Professor Fakhri received his doctorate from the University of Toronto Faculty of Law, LLM from Harvard Law School, LLB from Queen's University, and BSc in biology from the University of Western Ontario.
Michael Fakhri is a faculty member of the Environmental and Natural Resources Law Center where he co-leads the Food Resiliency Project at Oregon Law. He is currently working on questions of how Inuit seal hunting in the Arctic is defining the relationship between international trade law and concepts of sovereignty. He has given talks at
Harvard Law School, Princeton University, Brown University, Cornell University, London School of Economics, University of Cambridge, the American University of Beirut, and the American University in Cairo.