Where Law Means Business.
Gain expertise in the areas where law intersects with business-- finance, entrepreneurship, estate planning, green business initiatives, intellectual property, sports, and the tax code. The program offers rich experiential learning opportunities inside and outside of the classroom. Courses, clinics, externships, and moot court competitions introduce you to a wide array of topics such as contracts, business associations, intellectual property, start-ups, bankruptcy, in-house counsel work, and tax.
---
Business Law Concentrations
---
Alumni Highlight — Douglass Barron, JD '12
Associate, Corporate Restructuring Department, Paul Hastings, New York, NY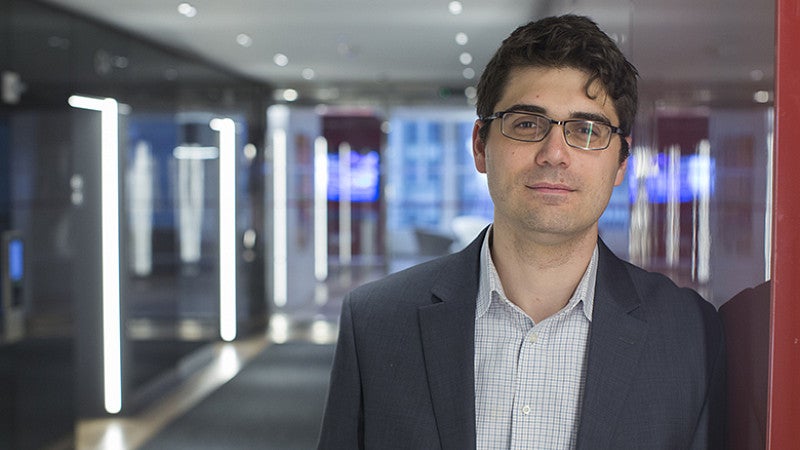 "Oregon Business Law professors provided me with key mentorship in following my career path and networked on my behalf to help me obtain critical professional opportunities."
Douglass Barron now works at one of the top law firms in the country. He has been tackling the Title III restructuring of the Commonwealth of Puerto Rico.
---
Careers
As a business lawyer, you may work at a small firm, a large firm, as in-house counsel for a start-up company or corporation, or as an entrepreneur. You may represent clients in transactional matters, such as forming a company or licensing intellectual property, or in business litigation or bankruptcy. You may work with clients on business planning or matters pertaining to intellectual property, energy law, employment law, sustainable business, mergers and acquisitions, international business, bankruptcy, or tax.
Potential careers in business law include:
Bankruptcy Attorney
Commercial Litigator
Corporate Counsel
Health Care Attorney
Intellectual Property Attorney
Mergers and Acquisitions Attorney
Public Interest
Real Estate Attorney
Securities Law Attorney
Tax Attorney
---
Academics
Sample of Business Law Coursework
FIRST YEAR (1L) (Assigned courses)
Torts
Contracts
Civil Procedure
Constitutional Law I
Criminal Law
Property
SAMPLE UPPER DIVISION COURSEWORK
Required and elective courses will vary depending on which concentration you are pursuing. Below is a non-concentration-specific list of possible business law courses.
Required and recommended bar prep courses
Administrative Law
Antitrust Law
Bankruptcy
Contract Drafting
Intellectual Property Licensing
Negotiation
Nonprofit Organizations
Technology, Entrepreneurship, and Law
Trusts and Estates
ADDITIONAL COURSES
Accounting for Lawyers
Art Law
Business Planning
Estate and Gift Tax
Patent Law and Policy
Secured Transactions
Sports Law
Trademarks
Summer Sports Institute
Spend five weeks over the summer immersing yourself in the world of Sports Law. Top law faculty from across the country and guest speakers from the professional sports industry, the media, the NCAA, and more, come together for a deep dive into business law using the sports industry as a case study.
---
Concurrent Degree Options
---
Practical Experience
A sample of some of the available practical experiences
FIRST YEAR (1L)
Legal Research and Writing
SECOND YEAR (2L) OPTIONS
Negotiation
Contract Drafting
THIRD YEAR (3L) OPTIONS
Business Law Clinic
In-House Counsel Field Placement
Clinics & Field Placements
Business Law Clinic – intensive training and practical experience representing actual business clients in a simulated firm environment.
Nonprofit Clinic –interdisciplinary clinic where students work together to assist boards of directors in executing their stewardship responsibilities.
Bankruptcy field placements
In-house field placements
Intellectual property field placements
US District Court field placements
US Court of Appeals for the Ninth Circuit field placements
Oregon Supreme Court, Oregon Court of Appeals, and Oregon Tax Court field placements
Circuit Court field placements (Oregon)
US Immigration Court field placements
---
Professional Development
At Oregon Law, we take your future seriously. As a law student, you will take a required professional development seminar your first year.
You will also receive individualized, tailored professional development coaching from a professional who will guide you to make strong career choices throughout your time at Oregon Law.
FIRST YEAR (1L)
Professional Development Seminar
Explore Business Law practice areas
Meet with career counselor
Join UO Law Linkedln group
Summer Experience—Examples: UO Purchasing & Contracting, Port of Portland Field Placement, Research Assistant
SECOND YEAR (2L)
Narrow career exploration to specific employers/locations
Seek out networking opportunities
Apply for summer employment
THIRD YEAR (3L)
In-House Counsel Field Placement
Apply for jobs and post-JD opportunities
---
Extracurriculars
FIRST YEAR (1L)
Law and Entrepreneurship/Student Association
Law of Intellectual Property
Green Business Initiative
Sports & Entertainment Law Forum
SECOND YEAR (2L)
Overseeing a symposium for a student organization or journal
Oregon Law Review
Competing in Moot Court Competitions
Participating in The Northwest Bankruptcy Institute
Joining the Business Law Section of the ABA
THIRD YEAR (3L)
The Oregon State Bar Student Associate Program
Apply for jobs and post-JD opportunities
---
New Venture Championship
The New Venture Championship (NVC) is the Pacific Northwest's original six-round business competition. Teams from elite universities come to Portland every year to pitch their venture plans and vie for cash awards.
---
Faculty Highlight — Eric Priest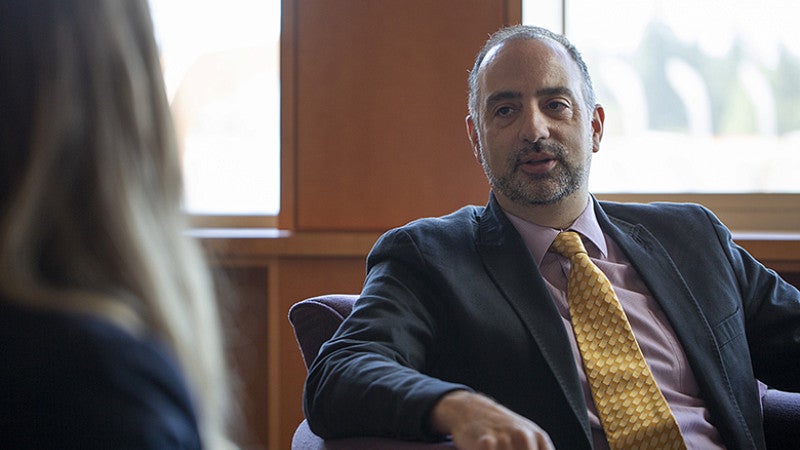 Professor Eric Priest researches in the area of intellectual property law, with a focus on copyright law in the information age and the creative industries in the US and China. He teaches Copyrights and Trademark Law and supervises students who undertake intellectual property field placements. Priest currently serves on the US-China IP Cooperation Dialogue, a semi-annual exchange between US and Chinese experts on the most challenging intellectual property issues facing China. Before entering the law field, Priest spent a decade as a music producer and songwriter. He worked in the Chinese music industry as a consultant, Web entrepreneur, songwriter, and producer.
"I enjoy helping our students launch great careers in intellectual property law," Priest says. "Our students have gained invaluable experience and expanded their professional networks through IP field placements at law firms, companies, and in government, including a top LA entertainment law firm, the US Patent and Trademark Office, and the US Chamber of Commerce Global IP Center in Washington DC, to name just a few."
---