Like in the days of Yasui, civil rights and constitutional rights have come to the forefront of our country. We must rededicate ourselves to treating people humanely." - Bill Waterman BS '77, JD '82
In 2012, Bill and Marie Waterman established the Yasui Student Fellowship with a generous donation to the University of Oregon School of Law. To date, the Watermans' ongoing gifts to the Minoru Yasui Student Fellowship ensure that the legacy of alumnus Minoru "Min" Yasui, BA '37 BL '39, is honored and that Oregon Law students can focus their studies on immigration, human, and civil rights-related issues. 
 
Bill Waterman, who graduated with a bachelor of science in 1977 and a law degree in 1982, currently teaches Mediation and Alternative Dispute Resolution and Litigation I and II in an American Bar Association Certified Paralegal Program at the John F. Kennedy School of Law at North Central University, National University System. 
 
He says that his interest in Yasui developed from his time as a writer with the law school newspaper at the time, The Dissent.  
"I got a chance to meet him over the phone and he was a real gentleman," Waterman said. "I just remember that he was so genteel and so dignified." 
Waterman would learn that Yasui earned both an undergraduate degree and his law degree at the University of Oregon. He was one of the few Japanese Americans after the bombing of Pearl Harbor who fought laws that directly targeted Japanese Americans or Japanese immigrants. His case was the first case to test the constitutionality of the curfews targeted at minority groups.  
Yasui's case would make its way to the United States Supreme Court, where his conviction for breaking curfew was affirmed. After internment during most of World War II, he moved to Denver, Colorado, in 1944.  
In Denver, Yasui married and became a local leader in civic affairs, including leadership positions in the Japanese American Citizens League. It was in Denver where Waterman tracked Yasui down and interviewed him for the school newspaper.  
After the interview, Waterman continued to follow the case in 1986 when Yasui's criminal conviction was overturned by the federal court. That same year, Yasui passed away. Congress finally acknowledged the government's mistake with the passage of the Civil Liberties Act of 1988. In 2015, Yasui was posthumously awarded the Presidential Medal of Freedom by President Obama for his lifelong civil rights advocacy.  
Waterman credits the passion of Holly Yasui, who is Min Yasui's daughter, and the dedication of Peggy Nagae, former assistant dean for academic affairs at the law school, who successfully represented Mr. Yasui in his coram nobis case in the 1980's with keeping Yasui's legacy alive.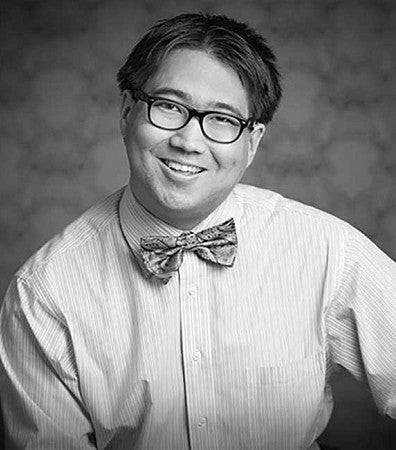 When the opportunity came to give, Waterman says that Professor Ibraham Gassama's encouragement and words of advice led to his final decision to create the Yasui Fellowship. 
"What is the point of being alive if you don't spend part of every day trying to make the world better for others," Gassama asked. "You cannot abdicate responsibility. You must do something."
Gassama's words aligned with Waterman's personal philosophical practice as a Nichiren Buddhist and member of the Soka Gakkai International (SGI), which is dedicated to peaceful resolution of conflict and individual rights and freedoms.  
"On a personal level, I wanted to try to give back in a way that I thought would have some impact by benefiting students directly," Waterman said. "I had the opportunity with my wife to do this, and it's important that we have more support for talented students who want to go to law school."  
Waterman hopes that that today's Oregon Law students, like Yasui, will discover a passion that drives them.  
"I want to help students become good lawyers or public servants in whatever field that they choose," Waterman said. 
Waterman knows that his story may be similar to other alumni who believe that they too received an excellent education from the UO. Now, he wants to encourage fellow alumni that although they may not be directly involved with civil rights law - they can support it.  
"I'm not a civil rights lawyer or engaged in in the field directly," Waterman said. "I support people that are doing it. Like in the days of Yasui, immigration, civil rights, and constitutional rights have come to the forefront of our country. We must rededicate ourselves to treating people humanely." 
One way Waterman would like to do that is by expanding the Fellowship. In the next few years, he would like to grow the number of alumni who invest in students.  
"My vision would be that several classmates might find this worthwhile," Waterman said. "By supporting students now, not only do we help create a better future, but we honor Minoru Yasui's legacy." 
To learn more about the Fellowship or to make a contribution to it, please contact Jessica Merkner, Director of Development. 
Jessica Merkner, JD (she/her) 
Director of Development 
University of Oregon School of Law 
Cell: 541-543-8337 
Email: jmerkner@uoregon.edu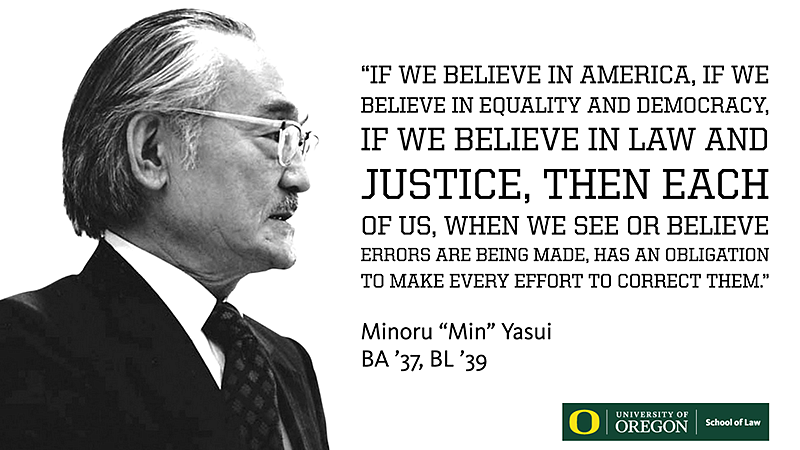 Related Event
Register for Oregon's 2021 Minoru Yasui Day event, Immigrants and Refugees: The Path to Justice.  Saturday, March 27, from 1:00 to 3:00 pm.
Related Articles 
Minoru Yasui Justice Award 
Law Spotlight: Weston Koyama 
UO law grad Minoru Yasui to receive Medal of Freedom 
Oregon Law to honor Ellen Rosenblum and Minoru Yasui 
---
By Rayna Jackson, Alumni Assocation Communications