The Kerry Adam Lewiecki Award (KAL) was created in memory of Kerry Adam Lewiecki, a concurrent JD/ CRES student in the Class of 2010 and CRES cohort 3.
Lewiecki, who died unexpectedly on June 24, 2010 at the age of 27, was well respected by his peers and teachers.
As a child he was known as a mediator and problem solver and throughout his life he had many close relationships that were characterized by compassion, kindness, tolerance, respect, and good humor. He was a passionate listener who enjoyed lively debate.
Lewiecki believed in reconciliation of disparate views through mutual understanding to achieve common goals. An advocate for the rights and acceptance of underrepresented individuals, he touched many lives through acts of kindness that were often unexpected but long remembered. Lewiecki was a skilled and courageous leader with a commitment to lifelong learning and teaching.
Established in 2010, the KAL award is given annually to a JD or CRES student who embodies the values that Lewiecki displayed throughout his life. Recipients of the award must also have an interest in conflict resolution as demonstrated through personal, professional, and political activities. In particular, activities that advance the wellbeing of underrepresented individuals and further the goals and values of compassion and reconciliation are given high consideration.
We congratulate the past recipients of the KAL Award, including those for 2020 – Katie Kerekes and Sahar Ebrahimi. We hope those who have received this award will honor Kerry's memory by working toward making the world a better and more just place for all. We encourage graduates, faculty, families, and friends to contribute to the Kerry Adam Lewiecki Award Fund at the University of Oregon Foundation to assure its sustainability for many years to come.
-Maura and Mike Lewiecki, Kerry's proud parents Albuquerque, NM
---
Kerry Adam Lewiecki Award recipients
2020 – Sahar Ebrahimi '21 and Katie Kerekes, CRES/Master of Nonprofit Management '20
2019 – Sarah Osborn, CRES/JD '21
2018 – Kelsey Cunningham, CRES/JD '20
2017 – Timothy Conbere, CRES/JD '19
2016 – Mariah Acton, CRES/Nonprofit Management/Public Administration '17
2015 – Lindsay Massara, JD/International Studies '17
2014 – Gordon Levitt, CRES/JD '16
2013 – Will Johnson, JD '14
2012 – Kristopher Cahoon, CRES/JD '12
2011 – Sarah Altemus-Pope, CRES/JD '14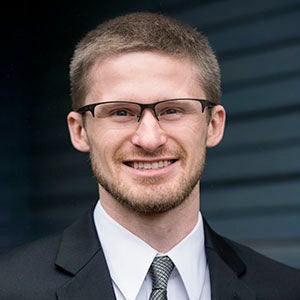 Gordon Levitt CRES/JD '16
2014 KAL Award recipient
Assistant Director, Oregon Senate Majority Leader Rob Wagner
"It was an honor to be chosen as the recipient of the KAL award in 2014. Reflecting on Kerry's legacy, I'm inspired to continue bringing compassion to my work in state government. In the midst of this global pandemic, political polarization and frustration are palpable, and it's difficult to see so many Oregonians struggling. I deeply appreciate the support that the Lewiecki family provided me with the KAL Award and look forward to continuing my efforts to resolve conflicts in Oregon."
---
By School of Law Communications