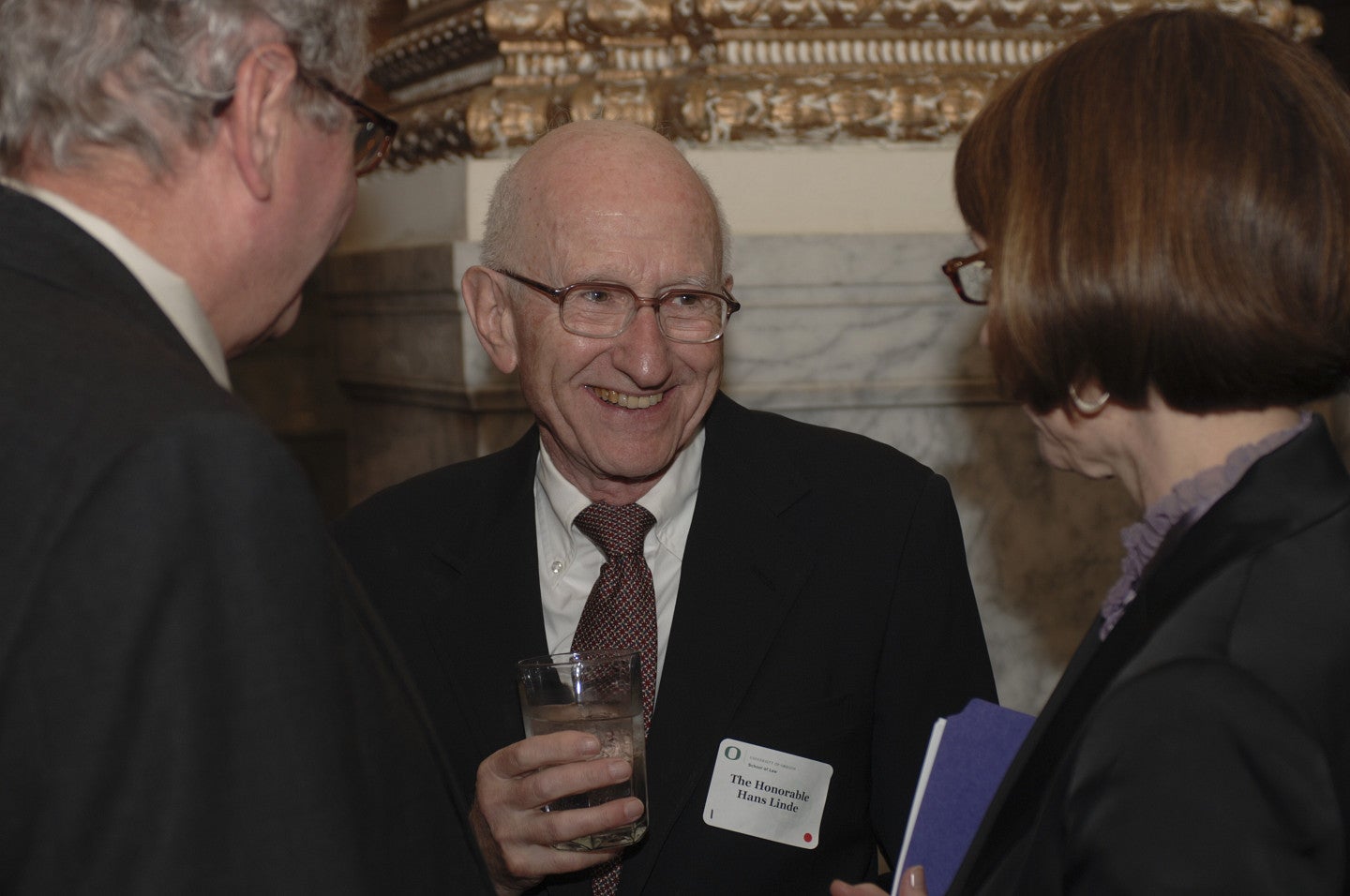 In Memoriam: Hans Arthur Linde, renowned jurist, law professor, and scholar 
Hans Arthur Linde, retired Oregon Supreme Court justice and former professor at the University of Oregon School of Law, died August 31 in Portland. He was 96. 

Linde began teaching at Oregon Law in 1954 as an associate professor. As a faculty member, he was known for his dedication to teaching and scholarship. His tenure spanned more than 18 years from 1954, and 1959-1977. The long-time educator taught federal constitutional law, legislative and administrative law, and torts.  
While at the School of Law, Linde served as chair of the Wayne Morse Center for Law and Politics Chair of Law and Politics, housed at Knight Law Center. It is considered one of the most distinguished chairs at the UO. Linde was selected for exemplifying the characteristics of Wayne Morse: integrity, independence, and respect for the rule of law and civil liberties. 
UO President Michael H. Schill spoke to Linde's influence.  
"Justice Linde has a remarkable legacy as a professor, scholar, and jurist," Schill said. "It would be hard to overstate his impact on our legal community and international jurisprudence." 
Do you have a memory to share?
You can send in your own memorial tributes and/or comments to lawalum@uoregon.edu.

In 2012, the School of Law established the Hans Linde Fellowship in Linde's honor. The one-year fellowship supports student research on regional, national, and state issues that at the intersection of law and public policy. 
"Justice Linde was truly a legal giant," said law Dean Marcilynn A. Burke. "We at Oregon Law will continue working to help ensure that the next generation of legal professionals have his same dedication and passion for upholding civil liberties."  
After his tenure at the law school, Linde was appointed to serve on the Oregon Supreme Court in 1977. He served on the bench for 13 years and retired in 1990.  His time on the bench changed the nature of state constitutional law in Oregon and his legacy is noted by his commitment to human rights and civil liberties through law.  
U.S. Senator Ron Wyden, a 1974 law school graduate, was a law student during the time Linde served as a faculty member. In a statement to the law school he remarked that Linde was an oracle of the American judiciary, leaving a proud legacy of work that strengthened protections for civil liberties.  
"Oregon was fortunate to have him serve on its highest court, as well as shaping the minds of generations of lawyers at the University of Oregon," Wyden said. "Justice Linde will be deeply missed, but his legacy will continue through those he taught and inspired." 
 

"Hans' mind was so full of ideas and suggestions for law improvement that he simply had no time to work on all of them."
Professor Emeritus Dom Vetri
 

One of countless students that he inspired, was alumna Jennifer Friesen, a 1978 graduate of the law school, who clerked for Linde from 1978-79. As a retired Professor Emeritus of Law at Loyola Law School in Los Angeles, Friesen attributes her scholarship to Linde.  
"Judge Linde was fascinating, dazzling, and lovable all at once," Friesen said. "His work on state constitutions inspired me to write State Constitutional Law (LexisNexis), the first treatise surveying the state constitutional rights decisions of all 50 states. The republic has lost a great light." 
Professor Emeritus Dominick "Dom" Vetri recalls that as a faculty member, Linde was always interested in helping and encouraging younger faculty to undertake meaningful scholarship. 
"Hans frequently stopped by our offices to ask about our research and writing activities. Inevitably, he would have several excellent suggestions," Vetri said in a tribute to Linde.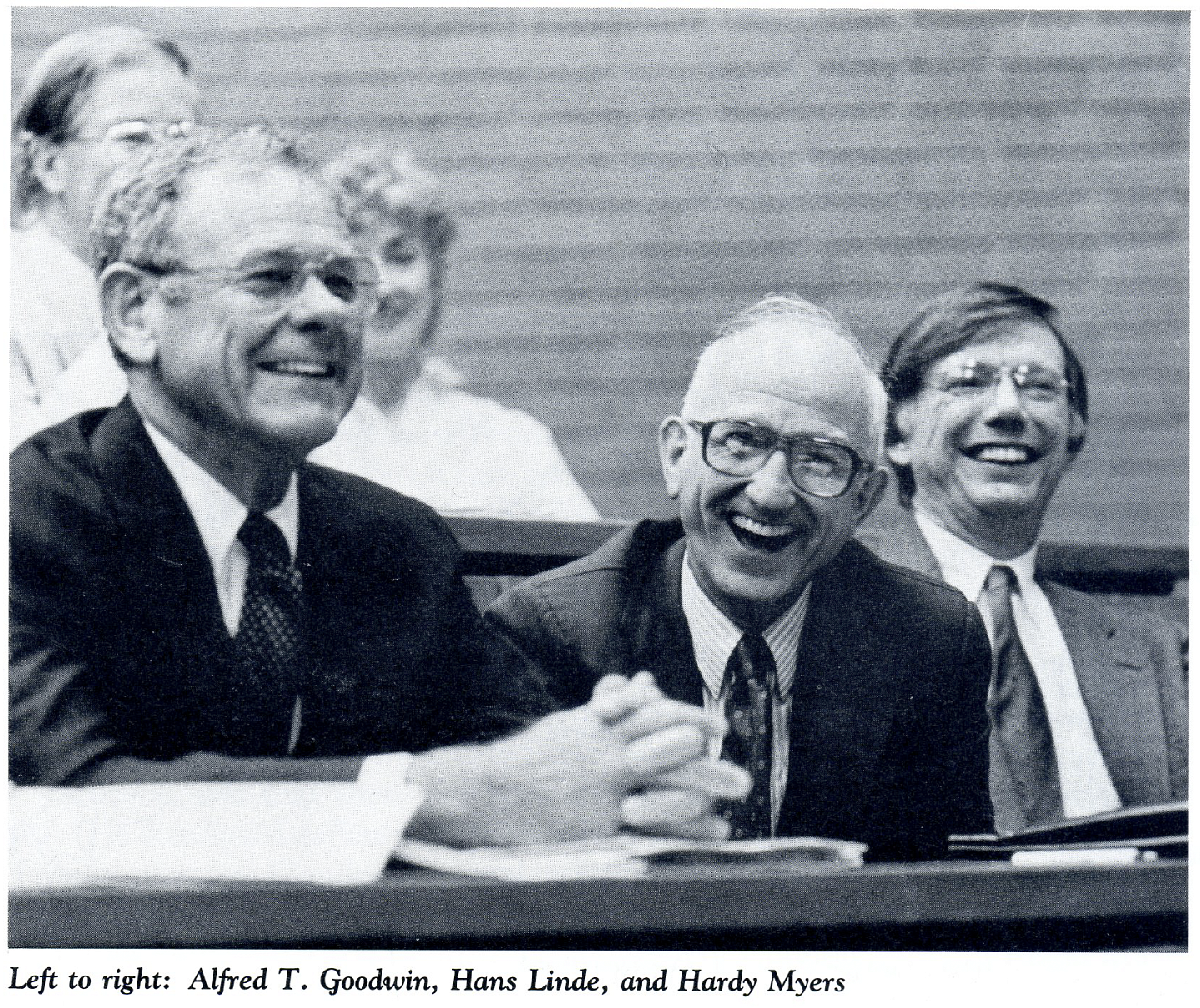 "Hans was a giant among us who enriched the lives of all who knew him."
Judge Rex Armstrong
"Twenty minutes of discussion with Hans reinvigorated your research and opened up new ways of thinking about your project. Hans' mind was so full of ideas and suggestions for law improvement that he simply had no time to work on all of them. He graciously shared research ideas of great potential with his colleagues and his students." 
Linde's work and impact were recognized by the law school in 1987 when he was named recipient of the Oregon Law Meritorious Service Award. It was awarded for his extraordinary contributions to legal education and the legal profession.    
The Oregon Law Review honored his judicial work in the 1991, Volume 70, publication "Symposium on the Work of Justice Hans Linde." 
In the journal, former UO President and School of Law Dean, Dave Frohnmayer recognized Linde for his "reputation as one of this generation's most original thinkers." Frohnmayer also called Linde the "architect of democratic institutions." 
That sentiment is echoed by Judge Rex Armstrong who sits on the bench of the Oregon Court of Appeals. As an Oregon Law alumnus, Judge Armstrong, a 1977 graduate, not only took classes from Linde, but also clerked for him from 1977-78.  
"Isaac Newton was a great scientist who said that he had been able to see farther than others because he had stood on the shoulders of giants," Armstrong wrote in an email. "That metaphor fully applies to Justice Linde and his contributions to law and the institutions that administer it. Hans sought to understand legal questions by approaching them from a variety of perspectives, akin to how Einstein sought to understand physical phenomena, which led to important insights extending over the entire legal spectrum. Hans was a giant among us who enriched the lives of all who knew him." 


"Hans Linde is one of the giants of the American judiciary. His brilliant work both as a law professor and, for a little over a dozen years as a justice on Oregon's highest court, addressed not just important issues of state law but also unsettled questions of federal constitutional law in a series of opinions, articles, and books that have been justly influential throughout the nation and ultimately the world…In a time when the very survival of our constitutional republic is under threat, work that he did decades ago is likely to come to the fore and provide a fertile resource for scholars, lawyers, and judges struggling to save constitutionalism and the rule of law."
Laurence H. Tribe, Professor of Constitutional Law Emeritus, Harvard Law
 
A prolific scholar, Linde's publications included a coursebook in legislative and administrative processes and more than 100 articles, lectures, and reviews. His work has inspired an entire generation of legal scholars, including that of Oregon Law Professor Emerita Caroline Forell. Forell wrote three law review articles based on one of his cases, Nearing v. Weaver (1983) and taught Fazzolari v. Portland School District (1987) in her Tort Law course. 
"Hans Linde changed my life," Forell said in a tribute to Linde to law faculty. "I owe much of my scholarship in the first half of my long academic career to Hans Linde. The impact Hans had on my legal scholarship was based on his Oregon Supreme Court torts opinions. He wrote opinions that could be read many times over and still reveal something new. For me as an academic, this was fantastic." 
Linde is survived by his wife, Helen; two children, Lisa and David; and two grandchildren, Jess Harrison, and Adam Gabriel. In lieu of flowers, the family asks that donations be made in his honor to the Hans Linde Endowment.  
Information regarding his memorial will be announced at a later date. 
---
Related Articles 
Third-year law student receives inaugural Linde award 
Oregon Law Review: Hans Linde and His 1984 Judicial Election: The Primary 
Oregon Law Review: Free Speech Fundamentalism- Justice Linde's Lasting Legacy 
Oregon Law Review: Hans Linde As Constitutional Theorist: Judicial Preservation of the Republic 
Oregon Law Review: Rationality Review of Tort Reform Legislation Under State Constitutions: Justice Linde's Methodology of Judicial Review 
Oregon Law Review: Tribute: Judge-Professor Linde 
---
By Rayna Jackson, School of Law Communications