Professors Carl S. Bjerre and Andrea Coles-Bjerre recently completed ten weeks as visiting fellows at the University of Oxford's Commercial Law Centre.
The oldest university in the English-speaking world, Oxford has been an exciting center of intellectual life for more than 900 years. Consistent with its pedigree, Oxford was ranked first in the world in the Times Higher Education (THE) World University Rankings for 2017, 2018 and 2019.
One of the keys to Oxford's special status is that professors from all over the world regularly come to speak, teach, and exchange ideas. As part of that enterprise, Bjerre and Coles-Bjerre were invited to pursue their research from January to March, or the entire "Hilary Term," which is the approximate Oxford equivalent to winter quarter here in the United States.
"We're thrilled our faculty were invited to engage in this exciting undertaking," said Marcilynn Burke, Dean and Dave Frohnmayer Chair in Leadership and Law. "Their academic and personal experiences are sure to enrich their already outstanding teaching and scholarship."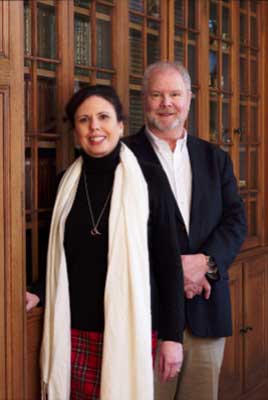 Andrea Coles-Bjerre, associate professor and faculty director of the Business Law Program, specializes in corporate insolvency law, and teaches Bankruptcy and Business Bankruptcy. Carl Bjerre, Kaapcke Professor of Business Law, specializes in commercial law, and teaches first-year Contracts, Secured Transactions, and Advanced Uniform Commercial Code.
Both Bjerre and Coles-Bjerre were lawyers at large Wall Street law firms before coming to the UO School of Law, where they have taught for over 20 years in fields that are closely related. And even with their deep expertise, they both say that their time at Oxford was a tremendous learning opportunity.
"There are always new ways of looking at current and emerging legal issues, and talking with colleagues from other countries is one of the best ways to keep having fresh insights," said Bjerre. "Understanding a different legal system is a powerful way of helping us to re-evaluate the premises of our own system," added Coles-Bjerre.
Harris Manchester College – the academic and residential unit at Oxford that invited the two of them on their fellowships – operates a center that covers activities in both of their fields.
During the course of their fellowships, Bjerre and Coles-Bjerre each gave lectures to Oxford faculty. Bjerre lectured on the property rights of a person who transfers stocks or bonds while lacking mental capacity, and Coles-Bjerre lectured on the procedural requirements for confirming a non-consensual Chapter 11 plan. Coles-Bjerre also guest-lectured at the historic Strand campus of King's College, located in the heart of downtown London.
The Commercial Law Centre's Hilary term also included talks by justices of the U.K. Supreme Court and the Australian Supreme Court, and workshops on papers by scholars from universities in Zurich, Haifa and Bonn. Other fellows and Ph.D. students at the Commercial Law Centre during the term were from universities in Albania, Australia, Belgium, Germany, and Italy, among other places.
"This is precisely the kind of distinguished engagement that strengthens UO Law's international profile," said Dean Burke.
---
By School of Law Communications