John Bonine, Oregon Law's B.B. Kliks Professor of Law, is participating in international climate law negotiations at the 2019 United Nations Framework Convention on Climate Change.
For two weeks in Madrid, Spain, more than 25,000 representatives and diplomats from nearly 200 countries confront the causes and consequences of an onrushing climate emergency.  
Bonine, who teaches international environmental law, served as a citizen delegate to two previous rounds of climate negotiations — in Copenhagen in 2009 and Paris in 2015. This year, he represents Environment-People-Law, a public interest law firm based in Ukraine. He is Chair of the Executive Board of that nonprofit organization.
"I liaise with other lawyers who are trying to incorporate human rights concerns and legal approaches into the negotiations," said Bonine.  "They are members of two international networks — the Environmental Law Alliance Worldwide (ELAW) and the Human Rights & Climate Change (HR&CC) Working Group."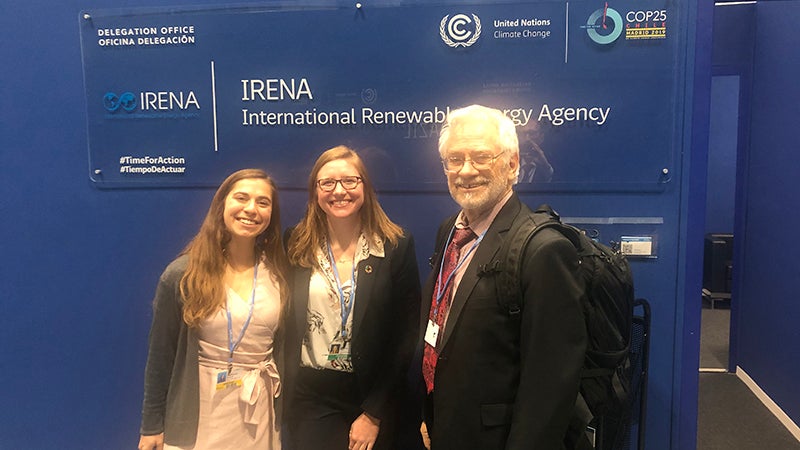 At the Madrid negotiations, Bonine says that Oregon Law's connections abound. ELAW is based in Eugene and four of its staff members are Bonine's former law students. The HR&CC Working Group was also co-founded by another Oregon Law graduate.
Alumna Claire Reid Kiss JD '18, is also involved in the Madrid negotiations. She works in Germany for the International Renewable Energy Agency, which supports countries in their transition to a sustainable energy future.
---
By School of Law Communications