The Art of the Possible: LACE Up for a Life in the Law was sponsored by the University of Oregon Women's Law Forum, Lane County Women Lawyers, Lane County Bar Association Diversity Section, Federal Bar Association, United States District Court, University of Oregon School of Law, and University of Oregon Division of Equity and Inclusion
---
"The Art of the Possible: LACE Up for a Life in the Law" prepares students for the legal profession
Students from the University of Oregon School of Law attended the annual "The Art of the Possible" conference hosted at the Wayne L. Morse United States Courthouse in Eugene. Held on October 18, 2019, 156 first-year students got their first introduction to the realities of practicing law from those on the federal bench, law firm partners, and government attorneys focused on both civil and criminal practice.
The annual event was conceived in part by U.S. District Court Judge Ann Aiken, who graduated from Oregon Law in 1979. It began in an effort to inspire law students and new lawyers to think courageously and creatively about their future careers.
"Whatever job you want to do in the law is going to be hard," said Judge Aiken to students. "Find the people who have your back, who share your values and are going to support you when the times are down. It could be a big firm, a small firm or a collaboration where you are sharing office space. Most importantly, work with people that care about you and the work you are going to do."
Rebecca Ivanoff, Assistant Dean, Career Planning & Professional Development at University of Oregon School of Law noted that the theme "LACE Up for a Life in the Law," allows for students to gain valuable insights on love, authenticity, courage, and empathy both professionally and personally. "It is a powerful event for law students and seasoned attorneys alike, leaving many feeling energized about the possibilities that exist within our profession," said Ivanoff who serves as a member of the Lane County Women Lawyers' Steering Committee.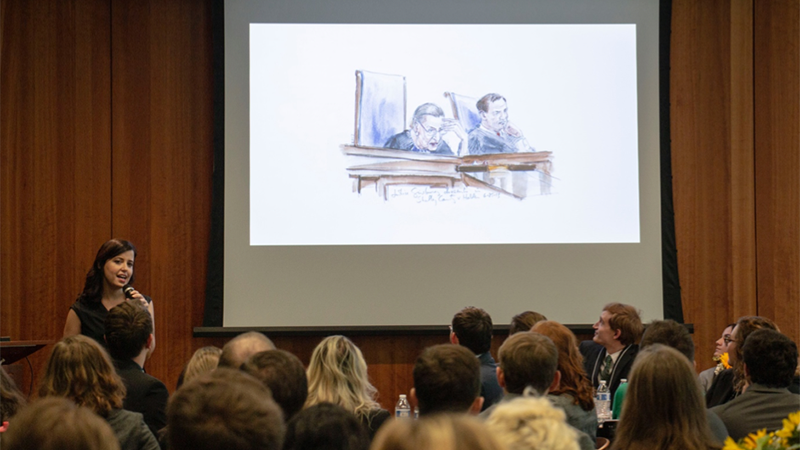 "The irony of RGB being known as the 'great dissenter' is that she is someone who has often sought consensus and has urged step-by-step change in order to forestall backlash," said Carmon. "Her argument has always been that real, lasting change happens one step at a time."
In addition to the keynote speaker, the program featured two panels.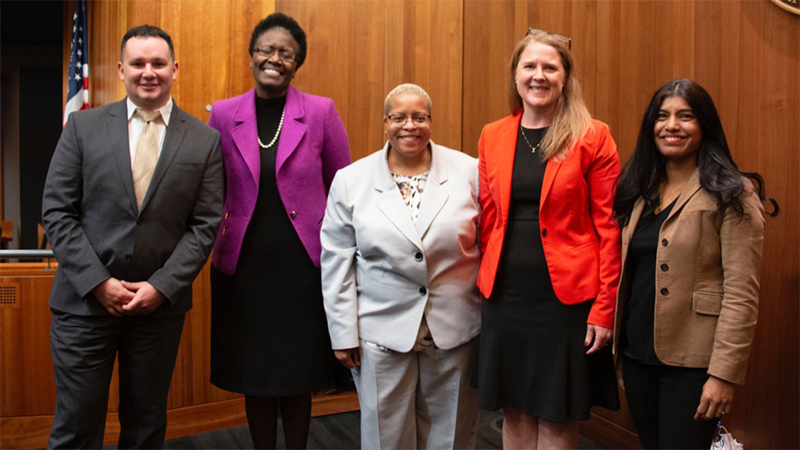 The first panel, "It's a Marathon, Not a Sprint," highlighted how to overcome obstacles while maintaining the values of love, authenticity, courage and empathy.
"These values are alive and powerful," said Dr. Yvette Alex-Assensoh, moderator and University of Oregon President for Equity and Inclusion. "They require us to hold space for other people, to have a firm grasp on our personal strengths and weaknesses, to push forward in the face of adversity, and to create solutions that provide justice for all."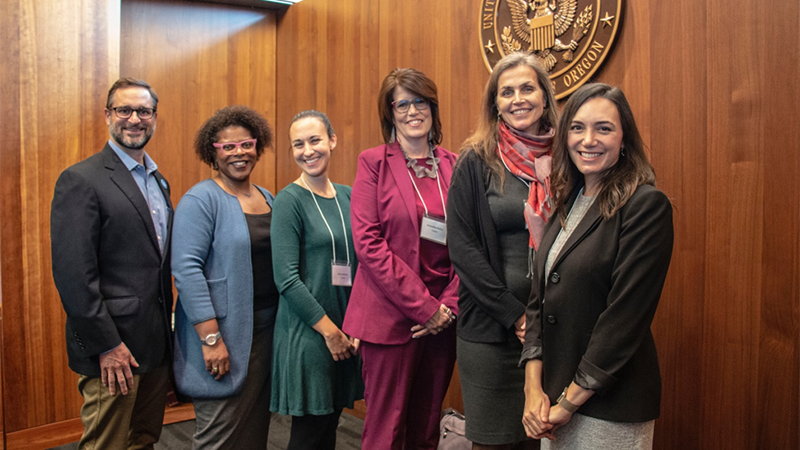 The second panel, "Why Not Change the Game?" highlighted the work being done to make law practice better for both clients and legal professionals alike.
"We are here to serve the public's interest," said John Grant, moderator and founder of Agile Attorney Network. "We are here for the people of Oregon, who need our help. And unfortunately, they are not getting it. We need to change the game because the game isn't working for the people we are meant to serve."
He went on to note that the institution also needs to do a better job at serving legal professionals. "We are a caring profession. We are here to take on the burdens of other people and that is an amazing thing that we do, but most lawyers don't have any formal training in caregiving. We have to do better.  We need to learn how to be caregivers -- and also engage in self-care -- so that we can continue to deliver quality work and to help the people that need it," said Grant.
Grant also encouraged students to learn more about the Oregon Attorney Assistance Program, which provides confidential and free counseling assistance to lawyers, judges, and law students.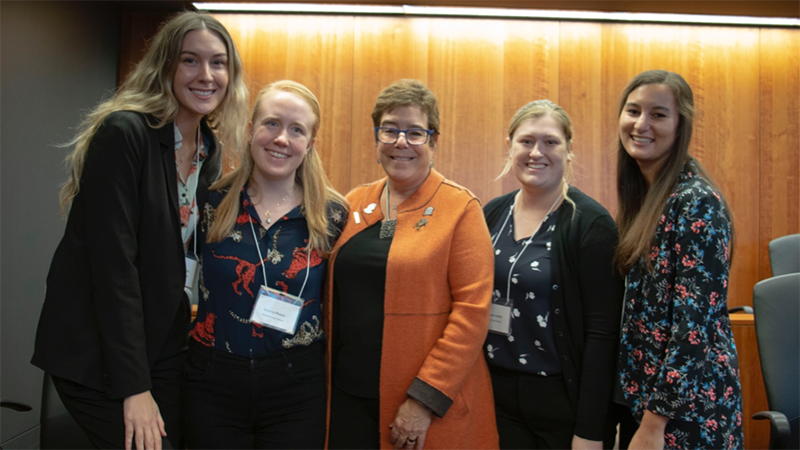 The day concluded with a hosted reception where both students and legal professionals were able to network.
Andrea Moore (JD '21) of the Women's Law Forum at Oregon Law says that the event allowed students to feel empowered to take on a legal career, regardless of their gender, place in life, or hope to embark on a non-traditional career path.
"We learned that we can take an alternative path and still have a voice," said Moore. "Thank you to Judge Aiken's team and to the strong showing of Oregon judges, academics, and lawyers who connected with us and showed us that there is more than one way to make a mark on our community."
---
By Rayna Jackson, School of Law Communications