November 22, 2019, marked Professor Richard Hildreth's last day of teaching at Oregon Law. For the last 41 years, Hildreth has taught Local Government, Land Use and Water Law, International Environmental Law, Climate Change Law, and United States and Canadian Ocean and Coastal Law.
Hildreth has served as Director of the Ocean and Coastal Law Center from 1980 to 2019. He was the Frank E. Nash Professor of Law from 2010 to present.
"Professor Hildreth has been an essential part of our faculty," said Marcilynn A. Burke, Dean and Dave Frohnmayer Chair in Leadership and Law. "He has helped shape state and national laws governing ocean resources and activities and has prepared Oregon Law students to be advocates in the field. We are proud of his legacy at the law school and will continue to build on the program that he helped to establish."
How it all started
When Hildreth began working at Oregon Law in 1978, it was what he calls a mixture of good "luck and timing."
"I was teaching at University of San Diego, but to have attracted the interest of a research university like Oregon, was really the deciding factor for me," said Hildreth.
During the time of his arrival, Oregon law school was building its national reputation. It had recently moved to "The Law Center." The Legal Research and Writing program and the first Environmental Law Clinic were established in 1978. Within the next three years, the law school held its first PIELC Conference and celebrated its first 100 years.
"When I saw who I would be working with, such as the eminent professor Charles Wilkens, Jon Wilkinson, and the former Dean Chapin Clark, I immediately knew that I wanted to be a part of the team at Oregon Law," said Hildreth. "They were leading their fields in natural resources, oceans and marine law. I couldn't have dreamed of having a better research setting for my work."
Over the years, Hildreth's work has included consulting frequently with federal and state coastal management agencies in the U.S. and Australia. He has also consulted with Pacific Island governments on environmental legal matters. 
His scholarship includes authoring five textbooks and many other publications on ocean and coastal law. Of all his research, he points to his work on the National Academies of Sciences, Engineering and Medicine report, "Non-native Oysters in the Chesapeake Bay" as one of the highlights of his career. He served on an inter-disciplinary national committee that investigated the cause of oyster decline in the Chesapeake Bay due to heavy fishing, deadly diseases, and environmental pressures. The question they dealt with was whether or not to introduce foreign oyster to offset the dramatic decline.
"We concluded that the oysters from Asia should be delayed until more is known about the potential environmental risks," said Hildreth. "My chapter in particular dealt with the regulatory framework for managing the proposed introductions. I can honestly sit back and say that I gave my best and that the report was first-class. And in the end, the oysters found a way to recover through a combination of external efforts."
Heather Brinton, Director of the Environmental and Natural Resources Law (ENR) Center says that Hildreth's contributions have made a tremendous impact in the state, across the nation, and around the world.
"As Director of Oregon's Ocean and Coastal Law Center and faculty leader of the Oceans, Coasts and Watershed Project, Professor Hildreth has dedicated his entire professional career to help provide meaningful solutions to challenges that face our marine and coastal resources," said Brinton.
Finding love and friendship at Oregon Law
It was also at Oregon Law that Hildreth met his wife and fellow colleague, Professor Caroline Forell.
"I freely admit that I am a complete book nerd," said Hildreth. "When I was in undergrad, I actually studied engineering but I would always see slick law students. With the law, I saw the opportunity to re-shape myself. I guess it worked – partially. I am still a nerd and an introvert, but Caroline is the complete opposite. And I'm thankful every day how we met and how everything has worked out socially, professionally and with my family."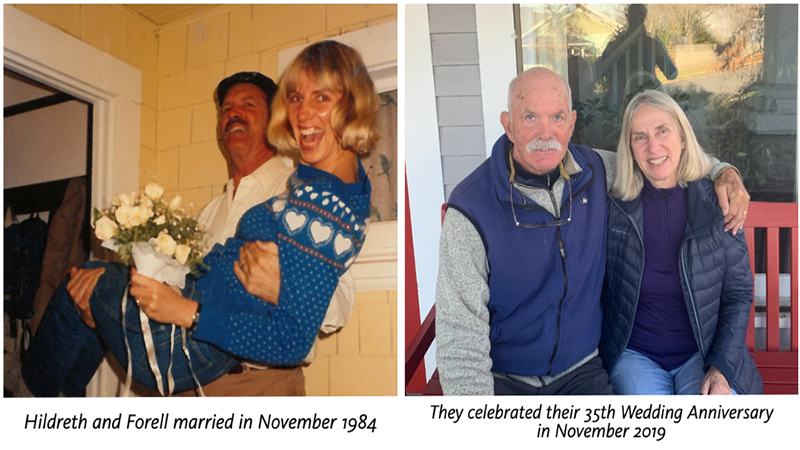 Looking back over his career, Hildreth says that he is proud to have helped "set the stage" for the future scholars and practitioners in the growing field of ocean and coastal law.
"Working with JD, masters' degree, PhD students, and faculty at the UO interested in managing US and global ocean resources sustainably has been extremely challenging and rewarding," said Hildreth.
One of the rewards he says is seeing alumni like Onno Husing JD '88 continuing to work in the field. Husing who is Director of the Department of Planning and Development in Lincoln County, made a surprise visit to Hildreth's last day of teaching. He says that Hildreth was instrumental to his current career. He came to Oregon Law specifically for the Ocean and Coastal Law Center and says that while its national reputation was the draw, faculty like Hildreth made it an outstanding experience.
"Dick, and the Ocean & Coastal Law Program, gave me an incredible stepping-stone for my career," said Husing. "When I came to Oregon Law, I needed a new mentor. Dick was such a nice person, an outstanding listener, always constructive and always looking for the next important opportunity. He opened a lot of doors for me."
Husing says that after gaining decades of valuable experience, he wanted to come back to the law school, in some capacity, to work with students. And because of his continued relationship Hildreth after law school, Husing now partners with a fellow alum, Wayne Belmont JD '84 who is County Counsel at Lincoln County, to provide summer field placements to Oregon Law Students.
"I never imagined we'd end up with a program as effective as this one; where the law students and Lincoln County benefit so much," said Husing. "Through these field placements, students have the chance to experience what it's like to influence and administer laws on the Oregon Coast. It is a true honor to be a part of continuing Dick Hildreth's legacy by training the next generation of leaders in this field."