The University of Oregon School of Law will celebrate Judge John V. Acosta at this year's Frohnmayer Award for Public Service on April 17 in Portland, Oregon. The event recognizes a graduate, faculty member, or friend of Oregon Law whose public service brings honor to the school.
John V. Acosta, Class of 1982, is a magistrate judge for the United States District of Oregon. In nominating Acosta, Oregon Law faculty, staff, students, and alumni point to his fidelity to the school of law, commitment to mentoring students and new lawyers as well as his promotion of professionalism and advocacy for diversity in the legal profession.
Since his graduation, Acosta has remained firmly committed to Oregon Law. He has served on the Dean's Advisory Council since 2013 and taught as an adjunct professor from 2001-07.  
A consistent observation in the nomination process was that Acosta is heavily invested in the next generation of legal professionals. Each year, he speaks to the incoming Oregon Law students about a life dedicated to the law and administers the Oath of Professionalism. And each Spring, Acosta returns to the law school during oral arguments for the Legal Research and Writing (LRW) class where he serves as a judge as students stand for the first time before a court to present their legal analyses. 
"He is demanding, and his questioning is rigorous, but his feedback is always supportive," said Suzanne Rowe, professor and director of the LRW Program. "His effort is remarkable in that he comes to judge each year, despite his busy schedule.  Also, he instinctively knows which student needs an extra word of encouragement, and his quiet vote of confidence after arguments has made a huge impact on many students."
Whenever Acosta is in Eugene, he also makes a point to organize a meet-up so students can connect with him in a casual setting to talk about anything on their minds.
Jennifer Espinola, Dean of Students at the law school, made note of this in her nomination, "He engages with them as individuals and as a community and it means the world to our students. He is truly empathetic, caring, compassionate, and the epitome of a role model. He goes above and beyond in every way."
Oregon Law alum Nathaniel S. Brown III, JD '14, shared his own experience when nominating Acosta for the award.
"If not for Judge Acosta, I would have quit law school after the first year," said Brown who went on to extern for Acosta as a 2L and is now the owner of a law firm in Long Beach, California. "I was upset about my first semester grades, and despite only knowing Judge Acosta for a couple months, I emailed him to share my disappointment. Rather than email me back, he called and we talked for an hour. This 'out of the way' help was common of him over the next three years. I saw him do the same for other students as well. He has been like a father figure to me, and we remain close to this day. I have never met anyone in my life so committed to bringing other people up behind him."
In nominating Acosta, Assistant Dean Rebecca Ivanoff noted that he is also heavily invested in providing professional development opportunities - specifically through judicial externships. 
"Next term alone, Judge Acosta has three Law Ducks slated to work with him in chambers," said Ivanoff.  "What makes his approach unique among some judges is that he does not strictly limit externship opportunities to students meeting a certain GPA threshold.  Rather, he seeks candidates who will (1) seize the opportunity, (2) dedicate themselves to learning from the experience, and (3) embrace the chance to develop their legal research, writing, and analysis skills." 
Acosta's dedication to mentorship and professionalism extends beyond just the school of law and reaches across the State of Oregon.
In 2013, he was the inaugural recipient of the annual Hon. John V. Acosta Professionalism Award, given by the Oregon State Bar New Lawyers Division to a lawyer or judge in recognition of their commitment to promoting the highest ethical and professional standards among new lawyers. Additionally, he is a past recipient of the Oregon Hispanic Bar Association's Paul J. De Muniz Professionalism Award. 
Read Acosta's professional advice for students through his opinion piece, The Power of Networking.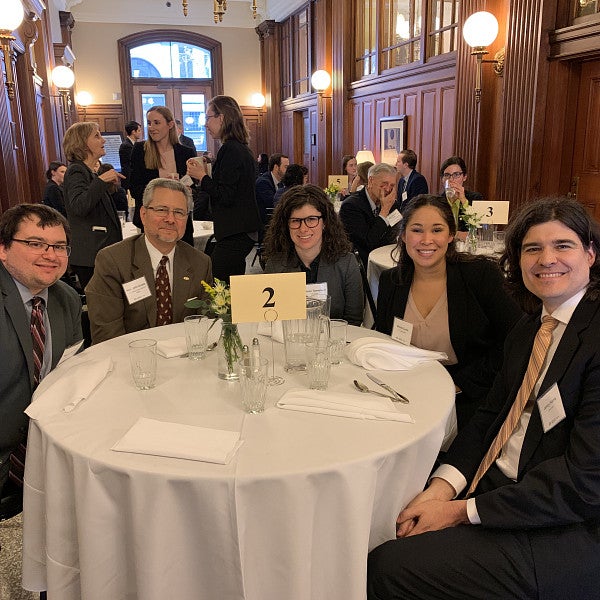 Creating a seat at the table in the legal profession
Over the years, Acosta has been known for his work to make the legal profession more welcoming for women and diverse lawyers and law students through his volunteer work with specialty bar organizations, the Federal Bar Association, Opportunities for Law in Oregon (OLIO), and the Oregon State Bar. 
One way that he does this is by seeking out and connecting with students and young lawyers who are starting their careers.
 "Through his willingness to share his own story and to invest in building community with lawyers and students from underrepresented groups, he serves as an inspiration for others when they consider what is possible in their own careers," said Ivanoff.
In 2014, the Oregon State Bar recognized his extraordinary commitment to uplifting lawyers from nontraditional backgrounds when he received its Diversity and Inclusion Award for "significant contributions to the goal of increasing minority representation in the legal profession." 
Acosta also has been active in the community through service on the boards of several nonprofit social services organizations, participating as a member of legal professional associations, and coaching high school mock trial students, among other volunteer activities. 
This year's event will be held 5:30 - 7:30 PM at Embassy Suites - Downtown 319 SW Pine St, Portland, OR 97204.
The Frohnmayer Award for Public Service was established in 2002 by the Law School Alumni Association and is named in honor of the family of University of Oregon President Emeritus and Law Professor Dave Frohnmayer.
Contact lawalum@uoregon.edu for more information about the 18th Annual Frohnmayer Award and sponsorship opportunities.
---
By Rayna Jackson, School of Law Communications