Please join Oregon Law's Environmental and Natural Resources Law Center and cross-campus partners for the 17th Annual Rennard Strickland Lecture this fall! The free and public lecture will begin at 6:00 PM on Tuesday, October 24, 2023. Join in-person in Room 175 of the William W. Knight Law Center at the University of Oregon (1515 Agate Street, Eugene, OR 97403) or live via Zoom Webinar at the following link: https://us06web.zoom.us/j/87899594907. At 7:30 PM, in-person attendees are also invited to a post-lecture reception in the Many Nations Longhouse (1630 Columbia Street, Eugene, OR 97403). 
We are pleased to welcome Dean Elizabeth Kronk Warner (Sault Ste. Marie Tribe of Chippewa Indians) as this year's honored speaker. Dean Kronk Warner will present a talk entitled "Shared Stewardship."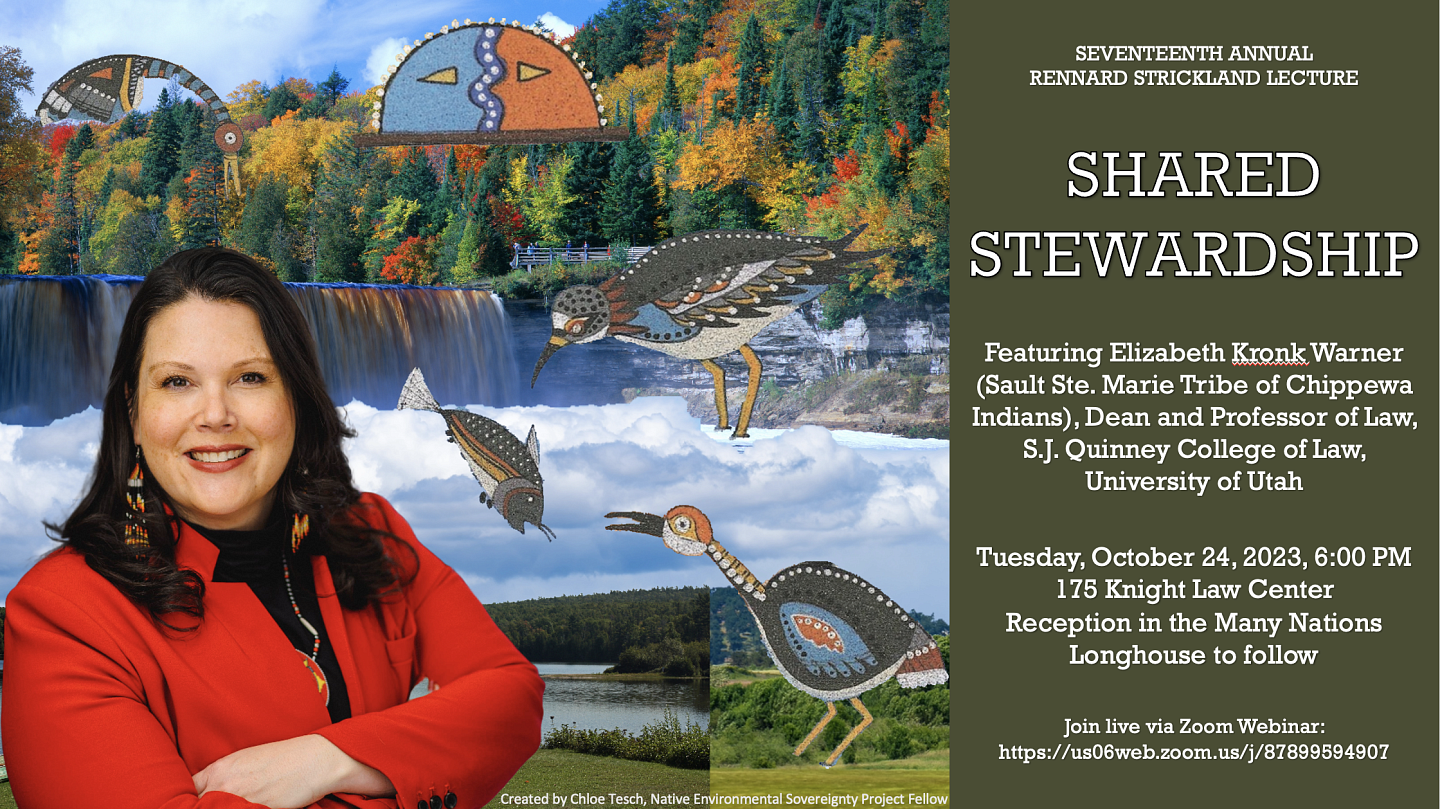 The Environmental and Natural Resources Law Center (ENR), through its Native Environmental Sovereignty Project, established the Rennard Strickland Lecture series in 2006 to honor the former Oregon Law professor and dean, who retired that year and passed away in 2021. Strickland, an Osage citizen of the Cherokee Nation, was widely regarded as a national leader in Indian law and policy. His leadership helped shape the ENR and Indian Law programs at Oregon Law. In keeping with Strickland's assertion that, "[i]f there is to be a post-Columbian future – a future for any of us – it will be an Indian future" (Tonto's Revenge, 1997), the Rennard Strickland Lecture series is designed to recognize and underscore the importance of Indigenous environmental-legal leadership in the twenty-first century. 
Elizabeth Kronk Warner is the Jefferson B. & Rita E. Fordham Presidential Dean and Professor of Law at the University of Utah's S.J. Quinney College of Law. Dean Kronk Warner is a nationally recognized expert in the intersection of Environmental and Indian law. She has taught courses in Property, Indian, Environmental, and Natural Resources Law, and has received several awards for her excellence in teaching. She formerly supervised the Tribal Judicial Support Clinic at the University of Kansas School of Law and has coached several moot court competition teams. Dean Kronk Warner's scholarship has included co-authoring several books on environmental issues and Native Americans and publishing more than 40 articles and book chapters. A citizen of the Sault Ste. Marie Tribe of Chippewa Indians, Dean Kronk Warner has served as an appellate judge for her Nation and as a district judge for the Prairie Band Potawatomi Tribe. She holds a J.D. from the University of Michigan, a B.S. from Cornell University, and also studied at Nanyang Technological University in Singapore. Learn more at the following link: https://faculty.utah.edu/u6024740-Elizabeth_Kronk_Warner/hm/index.hml. 
The 17th Annual Rennard Strickland Lecture is co-sponsored by the University of Oregon Environment Initiative; Department of Native American and Indigenous Studies; Many Nations Longhouse; Native American Law Student Association; Oregon Humanities Center's Endowment for Public Outreach in the Arts Sciences, and Humanities; Student Advocacy and Action for Environmental Justice; and Wayne Morse Center for Law and Politics. 
---
Past lecturers include: 
Professor Mary Wood, University of Oregon School of Law
Professor William Rodgers, University of Washington School of Law
Professor Rebecca Tsosie, University of Arizona Law
Former Assistant Secretary for Indian Affairs Larry Echo Hawk, Department of the Interior
Former Solicitor Hillary Tompkins, Department of the Interior
Former Deputy Solicitor for Indian Affairs Patrice Kunesh, Department of the Interior
Professor Robert Anderson, University of Washington School of Law (now serving as Principal Deputy Solicitor, Department of the Interior)
Former Assistant Secretary for Indian Affairs Kevin Washburn, Department of the Interior
Professor Robert Williams, University of Arizona Law School
Professor Carole Goldberg, University of California Los Angeles Law School
Dean James Anaya, University of Colorado School of Law
Professor Gerald Torres, Yale Law School
Mary Kathryn Nagle, Pipestem Law
President Fawn Sharp, Quinault Tribe and President of the National Congress of American Indians
Professor Stacy Leeds, Arizona State University Sandra Day O'Connor College of Law
Matthew L.M. Fletcher, University of Michigan Law School