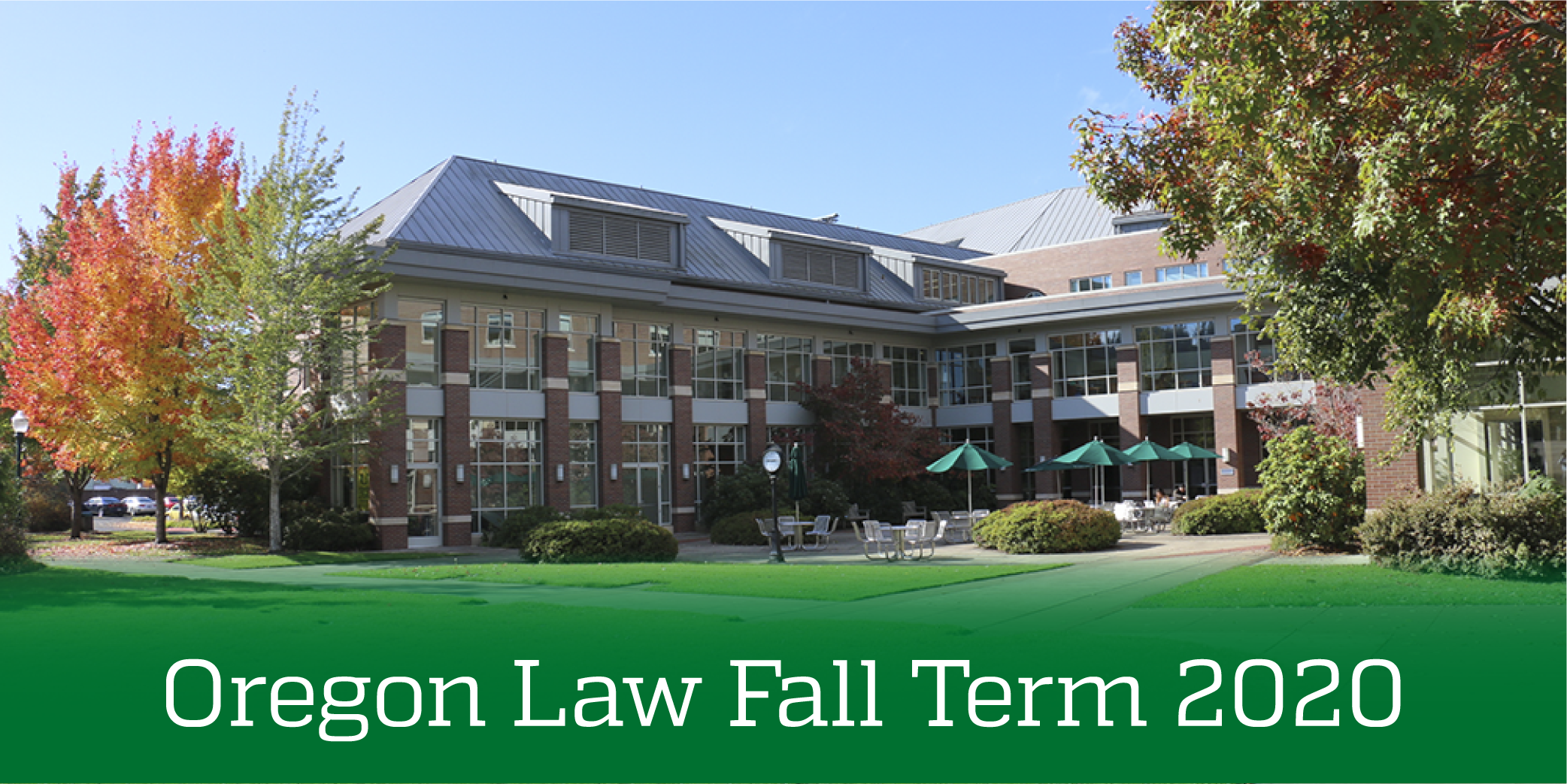 ---
These FAQs will be updated as the public health situation and our plans evolve. Please check back periodically for updated information.
---
Oregon Law is committed to helping our incoming class, and all our students, launch their legal careers, make progress toward their law degree, and take one big step toward their future professional goals. Our incoming class is part of a group of incoming law students across the country who are starting their legal educations at a truly historic time. When this generation of lawyers graduate, they will enter the profession resilient and creative, capable of working anywhere and with proven strategies for dealing with complexities.
With that in mind, here are the steps we are taking as a law school to ensure our students' health and safety and to deliver an outstanding educational experience in fall 2020 for all of our students during the pandemic.
The UO is developing strategies and plans to reduce the likelihood of illness spreading on campus.
|   |   |
| --- | --- |
| ► | We will have increased cleaning protocols. |
| ► | Hand sanitizer and sanitizing wipes will be available throughout the building. |
| ► | There will be signage designating traffic flow. |
| ► | Classrooms and meeting spaces will be adjusted to meet physical distancing requirements. |
| ► | Face coverings are now required in all campus buildings, as well as outdoors on UO property if physical distancing expectations cannot be met. |
| ► | The university will be providing two cloth masks to every student, faculty member, and staff member. |
| ► | Students, faculty, and staff are expected to self-monitor for symptoms of COVID-19 and not come to the law school if they have symptoms. |
Given physical distancing requirements, our 1L instruction will be different this fall compared to past years.
|   |   |
| --- | --- |
| ►    | Due to the continuing severity of the pandemic, and with health, safety, and your education in mind, all 1L instruction in the law school will be remote for the fall semester. |
| ► | Access to the William W. Knight Law Center will be prioritized for 1L students.  |
| ►    | Our facilities managers have developed spatial configuration guidelines for each classroom on campus. |
| ►    | Students will be assigned to subsections, and the students in those subsections will have the opportunity to attend many of their classes together in the same classrooms. Our hope is that these subsections will help facilitate community-building among the incoming 1L class, while also ensuring that the 1L subsection assigned to any given classroom will remain a small enough group to comply with health and safety guidelines. Students will receive information on their assigned rooms at Orientation. |
|   | Remote Instruction |
| --- | --- |
| ► | As you no doubt are aware, there has been a dramatic upsurge in COVID-19 infections in the past few weeks across the country. In order to best protect the health and safety of all community members, and given the constraints of physical distancing on our classroom space, we have made the decision to go remote for all clases this fall.  |
|       ►          | Even though instruction will be given via an online platform, 1L students can be in a physical classroom, in the Knight Law Center, watching and participating in class sessions with their classmates. Many on the faculty taught remotely in the spring, and the faculty has continued this summer developing and sharing best practices for teaching remotely. |
We have a number of vibrant student organizations that will welcome your interest and participation.
|   |   |
| --- | --- |
| ► | We are encouraging all student organizations to plan their fall meetings remotely.  |
| ► | As needed, we will work on accommodating requests by student organizations to use the building in accordance with all applicable health and safety guidelines. |
|   | at the School |
| --- | --- |
| ► | Access to the law school will be prioritized to 1L students and those students who do not have adequate connectivity or a safe and quiet space to study outside of school. |
| ► | Students with a suitable place to work remotely this fall—somewhere safe and quiet, with good connectivity—are asked to limit their use of the law building. |
| ► | The library will be open to students, faculty, and staff. See the Law Library Fall 2020 page. |
| ► | Capacity will be determined by physical distancing requirements.  |
| ► | We also are working on a plan to secure classroom space for studying outside of class hours.  |
|   | at home |
| --- | --- |
| ►  | We recommend that all students prioritize securing high-speed internet at their home and prepare a space to study and attend courses remotely. |
| ►  | We have outstanding tech support at the law school, and we will help students work through the various applications and learning platforms that they will need in their first semester. |
| ► | The Law Library offers remote services and curbside pick-up.  |
 

 

►

Library Fall Hours:

Monday-Thursday: 
9 am – 1 pm; and
2 pm – 7 pm

Friday:
9 am – 1 pm; and
2 pm – 5 pm

►

Students are able to reserve spaces to study in the library. Shifts will be limited to one 3-hour shift per student per week. 

Students are expected to clean their chair and table surfaces before leaving. Self-service supply stations will be provided.

In addition to daily cleaning by facilities staff, library staff will clean study areas in between reservations.

Seats will be available in two shifts:

Reservations can be booked out up to two weeks in advance.  

►
You must wear a mask at all times in the library. Please contact Assistant Dean Nicole Commissiong if you need an accommodation.
►

The Law Library will continue to offer remote services and curbside pick-up. 

View the Fall 2020 Law Library FAQs for more information. 
 

 

►
The Student Rec Center will be reopening on September 21! Just two blocks away from the law school, the Rec Center offers a place to stretch your legs and recenter when you're not studying. 
►

Expected Fall Facility Hours:

Monday–Friday: 6:00 am–8:00 pm
Saturday/Sunday: 10:00 am–6:00 pm

►

Things to Remember:

Individuals are required to wear face coverings that cover the nose and mouth at all times within the Student Rec Center and all PE and Rec facilities, as well as outdoors when six foot distancing cannot be maintained.
Bring your own water bottle. Water bottle fill stations are available throughout the facility, but drinking fountains will remain closed.
PE and Rec has temporarily halted cash transactions, but we are still accepting credit cards, UO charge, and payroll deduction. Most of PE and Rec's offerings are also available for purchase online.
PE and Rec is taking extra measures to keep the Rec clean, including frequently disinfecting high touch points. You can help maintain a healthy space for yourself and others by wiping down and disinfecting equipment before and after use.

►
Visit Return to the Rec for more information.
---
Last updated: August 31, 2020