Left to Right:  Anthony Adams (2L), Kristie Gibson (Supervising Attorney), Jacob Landsberg (2L), and Mindy Wittkop (Director and Supervising Attorney) during a remote Business Law Clinic session.
---
Second year law student JJ Juilfs has always dreamed of being a deal lawyer – helping people and businesses with their biggest and most important transactions. In fact, that's one of the main reasons he joined the UO's Business Law Clinic.
"I want to help my clients reach their business goals," said Juilfs. "I enjoy working through legal problems and learning new areas of the law – especially areas of contract law, corporate law, tax law, and securities regulation."
Even in the middle of a global coronavirus (COVID-19) pandemic, Juilfs still gets to do all that – and more.
This spring semester, Juilfs and the other seven law students who participated in the Clinic have continued to help local businesses on legal issues pertaining to entity formation, contracts, leases, and additional business matters.
By representing actual start-up business clients in a simulated law firm environment, the students get professional-level training and hands-on experience. The start-ups, on the other hand, receive free business-related legal services which gives them the opportunity to focus on the launch of their business. The Clinic's clients pay only the filing fees, if any, associated with the legal services.
Before Oregon's Stay at Home Order, Juilfs would have seen his client two times, with multiple emails and phone conference calls between the in-person meetings, to stay connected. He also would have attended weekly, in-person class sessions focusing on the practice of business law, ethical issues, client counseling, drafting documents, and professional development. The Clinic was able to continue these class sessions in a remote format.
"Prior to the remote operation, I relied a lot on quick conversations with peers and short in-person meetings with my supervisors," said Juilfs. "The conversations would often highlight things that I had missed during class or it would help me see a problem from a different perspective."
Once the remote work began, Juilfs says that he had to be more strategic and intentional in how he navigated with the attorneys, his clients, and fellow classmates.
"A lot of the client interaction was going to be over email regardless of whether the Clinic was virtual or in person," Juilfs said. "I've attempted to replace those conversations with small group Zoom meetings with my peers – but serendipity isn't easily replaced."
Juilfs and the other Clinic students have had to adjust to providing legal services to clients remotely. Mindy Wittkop, director and supervising attorney at the Clinic, says that prior to the shift she and her colleagues were able to discuss with each student what their technological and space issues were at home. 
2019-20 Business Law Clinic
970
Approx. pro bono hours
"The Clinic needed to be able to continue to provide legal services to its clients, and we needed to do so in a way that continued to meet our ethical obligations," said Wittkop. "For example, we needed to make sure that our students had access to the internet, were able to maintain their client digital files, and were able to communicate in a space and in a way that provided client confidentiality."
Wittkop notes that one initial complication was how to best communicate with and provide documents to each individual client.  Additionally, some clients were comfortable meeting on Zoom while others were not. To design a successful transition, they communicated with clients about what communication tools worked best for each business.
The Clinic works with a wide variety of small business clients such as  organic farms, lawn care services, web designers, consultants, and niche manufacturers. One business client in Eugene shared that under normal circumstances small businesses have very limited resources and affording a lawyer can be challenging. Recent reports from the Governor's Office show that 70% of businesses have closed or laid off employees, or will have to do so by July if economic conditions do not improve. This new reality has made it that much more difficult for entrepreneurs to launch businesses.  
"It is really an amazing service that the Clinic provides to small businesses and it means a lot to people like me who are trying to start something in Eugene," the client said. "Even if COVID-19 didn't allow us to meet in person, the student I worked with clearly communicated with me and we had our last meeting in the best possible conditions – even though it was done remotely."
Another client shared that they had a great experience with students in the Clinic during the remote transition.
"The ability of the Clinic to adapt was impressive, especially with COVID-19 impacting our final meeting," said the client. "I really appreciate this service and my business will be better for it."
Preparing students for the legal profession
Wittkop says that her team regularly emphasizes with the students that the Clinic is an opportunity for them to transition from student to the role of an attorney.  This semester she has seen the students rise to the challenges that come with remote service. They have successfully represented clients, problem-solved to figure out solutions to complete the client work, and have balanced the strain of working from home.
"We want students to take ownership of the client projects and communication, and to not rely on me or our other supervising attorney to tell them what to do on a step-by-step basis," Wittkop said. "The students this semester really embraced this concept, particularly following the transition to remote learning." 
Some of the essential skills that the students learned include preparing electronic documents and conducting online meetings to provide remote representation. According to Wittkop, these are fundamental skills that law firms will come to expect from students – and all skills that Clinic students like Jacob Landsberg, quickly learned over spring semester.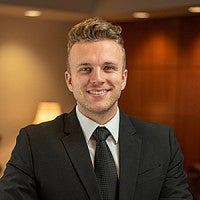 The Clinic shed light on the vast amount of legal work that goes into starting a business as well as the associated costs of doing so. The Clinic gave me perspective on the difficulties that some starting or young small businesses may have in accessing the law to properly align the business for success. I plan one day to incorporate pro bono work as a result.
-Anthony Adams, second-year law student
Landsberg, who is a second-year law student, moved back home with his parents after the campus closure. Looking back at the past semester, he says that despite losing the opportunity to work on preparing paper files, and the difficulties of finding a quiet space to work on shared projects, he feels better prepared for the remote externship that he will start this summer.
"Working remotely itself wasn't a big issue, even with moving home to my parents for the rest of the semester," said Landsberg.  "My summer externship and law school in the near future will be remote, so being able to get practice from the Business Law Clinic has been very helpful. I've been able to learn the best ways to interact with a supervisor, access resources, and stay on track for deadlines."
JJ Juilfs echoes his peer's positive outlook.
"Despite all the uncertainty - no matter how this thing shakes out, I'm going to keep working towards my dreams – and I'll take with me a level of professionalism that I didn't have before."
Jake Reimer, a second-year law student, says that while it was tough to work, study, eat, and sleep all in the same place, his actual Clinic work was relatively smooth. He conducted his weekly meetings with his supervising attorney over the phone rather than in person and also held his final client meetings remotely.
"We used Zoom for the first final client meeting, which worked well because I was able to share my screen while going over the documents with the client," Reimer said. "We conducted the second final client meeting as a telephone conference call. Not being able to show the client what part of a document I was talking about was difficult, but we addressed that issue by moving slower through the document and frequently checking if the client had any questions."
As Oregon Law continues to offer Clinics for the public during the pandemic, there will undoubtably be more adjustments to be made. But no matter what, Reimer has confidence in the legal profession.
"The pandemic has taught me that lawyers are adaptable and can always find a way to serve their clients."
Because of the popularity of this service, new business applicants to the Clinic are being waitlisted. Students begin working with businesses soon after the start of fall and springsemesters, which begin in August and January of each year.  For more information on the Clinic's services, please complete this form.
---
By Rayna Jackson, School of Law Communications