January 11, 2022
Eugene, Oregon. Oregon Law is taking part in a new Bar Fellows program instituted by the Lane County Bar Association (LCBA). Four UO law students earned the fellowship during the 2021-22 academic year. This year's LCBA Fellows are Amber Bozeman, Danielle Riege, Fiona Vettes, and Kiali Wong.
Designed to help diversify Oregon legal practice by recruiting and supporting diverse law students, the new program demonstrates Oregon's legal field commitment to supporting diversity, equity, and inclusion. The first summer internships will start the summer of 2022 for law students starting school in the fall of 2021.
The highly selective program is open to students with a strong commitment to practice law in Oregon. LCBA Bar Fellows Program provides a paid internship for recipients' first summer in law school and substantial scholarships throughout their time during law school. It also provides multiple networking opportunities, judicial mentorship, and other resources designed to support the bar fellows' success in law school and in their Oregon legal careers.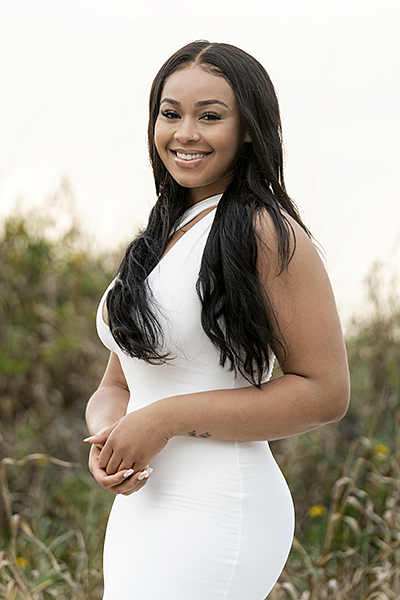 Amber Bozeman graduated from Bradley University where she received a degree in business administration and management and minored in both business law and women and gender. While in school, she played NCAA Division I basketball and was elected team captain her senior year. She was also a member of Zeta Phi Beta sorority. She has worked as a sports camp coach, and as the social media coordinator for a specialty food company. She looks forward to diversifying the legal profession and believes her experiences advocating for herself as a Black woman throughout her life will make her a better lawyer. She aspires to "...advocate for justice and equality and help historically and statistically disadvantaged people from all walks of life."
Danielle Riege graduated from of Indiana Tech, where she received a degree in marketing. Before starting law school, she worked for nearly a decade in the marketing field, and served on her latest company's Diversity, Equality, and Inclusion Advisory board, where she hosted events educating employees on topics like implicit bias and systemic racism. She is open-minded about her legal destination, but currently interested in public interest law and criminal law. She wishes to work as a civil rights prosecutor or public defender, and believes that "...justice cannot be a kaleidoscope where the outlook changes based on the addition of a defendant's race, religion, sex, gender, or economic status..."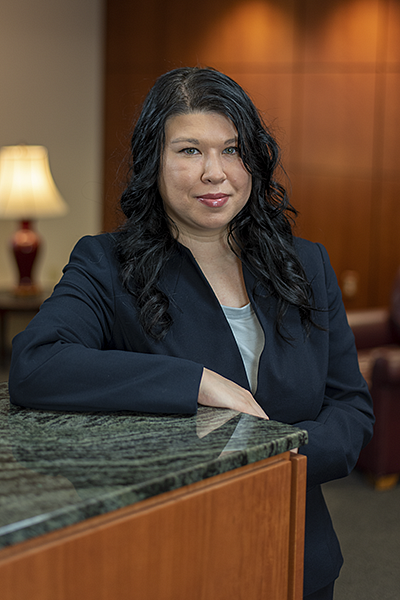 Fiona Vettes received a degree in legal studies from the University of California, Berkeley. While in school, she studied abroad in Argentina and Chile, where she focused on human rights. She also volunteered as a trial witness for Berkeley Law School and interned at the Legal Aid Society of San Bernardino. She is interested in personal injury and employment law and says she is motivated by her empathy and desire to help others and wishes to help empower communities through advocacy.
Kiali Wong Orlowski graduated summa cum laude from Arizona State University, where she received a degree in journalism. She earned the highest undergraduate GPA in her graduating class at ASU's Cronkite School and was inducted into the Kappa Tau Alpha National Honor Society. While in school, she was the founding president of the ASU student group for the Asian American Journalists Association. Prior to law school, she worked as a copy editor for a newspaper, as a copywriter for the marketing department of a large dental laboratory, and as a freelance writer for the University of California, Irvine. After law school, she wants to work in a career where she can "...advocate for those who are underserved, unheard, and unprotected."
The LCBA Bar Fellows Program will collaborate with the similar Multnomah Bar Association Fellows Program. These unique fellowships are offered in Eugene or Portland, respectively. Although separate programs, the Lane County and Multnomah County Bar Associations collaborate to enhance the experience of all Bar Fellows.
"Hershner Hunter is excited and honored to take part in this project to recruit and support a more diverse and inclusive Oregon bar," said Mario Conte, Managing Partner at Eugene's Hershner Hunter. "It is a great opportunity to have a meaningful and direct impact on these important issues."
Five Eugene law groups participate in the program. Participants include the law firms of Hutchinson Cox; Hershner Hunter; Johnson Johnson Lucas & Middleton; and the Local Government Law Group as well as Public Defender Services of Lane County. Each of the organizations will provide a paid internship for a bar fellow for the summer following the first year of law school.