---
Where do I park?
The Knight Law Center (law school) is located at 1515 Agate St. in Eugene
Parking near the Knight Law Center is first-come, first-served at the metered locations adjacent to the school on 15th Avenue, 17th Avenue and on Agate Street in front of the law school. The meters are credit card/debit card operated from 7:00 am – 6:00 pm Mon-Sat.
On Saturday, there will be a charge for parking at the meters until 6:00 p.m. The Law School faculty lot (43) on the south side of the Knight Law Center (enter from 17th Avenue), and the parking lot (34C) behind the law school are free on Saturday and are roughly a one-mile walk to Autzen Stadium.
We also recommend visiting the Lane Transit District website for Eugene EmX and bus schedules. There is a bank of PeaceHealth Rides (bike share) conveniently at the front entrance of the Knight Law Center for those who want to pedal around town.
---
What is the dress code for the Fall Kickoff events?
*Be sure to check the weather and dress appropriately for outside events.
State of the Law School and reception, O'Connell Conference, and Multicultural Happy Hour: business casual attire. (Multicultural Happy Hour is outside).
Oregon Law Awards Dinner and Reception. Cocktail or business attire. (outside)
Tailgate and Duck game: Wear your Yellow "Duck Gear!" (outside)
Class of 1971 Brunch: casual attire 
---
Where will the Friday evening Awards Reception and Dinner be held?
The East Green Campus Lawn located between the back of the Law School Courtyard and the front of the Global Scholars Hall.
Where are the other events being held?
State of the Law School - Room 184 and Zoom 
Reception - Law School Courtyard
O'Connell Conference: Making 'Justice for All' A Reality - Room 184 and Zoom
Knight Science Campus Tour - meet in the law school lobby promptly at 1:45 pm

Group will be walking over together at 1:50 pm

Multicultural Alumni and Student Happy Hour - Law School Courtyard
Oregon Law Awards Reception and Dinner - East Green Campus Lawn
Class of 1971 Brunch - Law School Wayne Morse Commons
Tailgate - Tailgate Alley at Autzen
---
I purchased football tickets, where do I pick them up?
Football tickets can be picked up when you check in at the Oregon Law Awards Dinner at the registration table or on Saturday between 2:00 - 4:30 pm (2.5 hours prior to kickoff) at the Law Tailgate in Tailgate Alley at Autzen Stadium. Tickets need to be picked up no later than 4:30 pm on Saturday.
*All Oregon Athletic events, including football games, require you to show proof of vaccination or a negative COVID-19 test within the past three days to obtain entry. This will apply to you when you are entering Autzen Stadium for the football game.
Where is the football tailgate?
The Law Tailgate is at Tailgate Alley near the East Gate Entrance of Autzen Stadium, tents 9 & 10.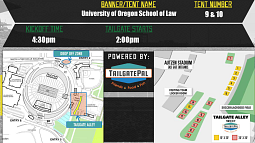 What can I expect to eat and/or drink on Saturday?
Pulled BBQ Pork, Tender Smoked Chicken, Grilled Vegetable Lasagna, Sweet BBQ Beans, Cheesy Texas Potatoes, Tossed Green salad with Sonora Ranch Dressing, Southern Sweet Rolls, Butter and Bullwhacker BBQ Sauce. Catered by Hole in the Wall Barbecue.
---
How do we get to Autzen Stadium?
Autzen Stadium is located at 2700 Martin Luther King Blvd.
LTD provides an Autzen Shuttle from several locations. 
Autzen Stadium is approximately 1 mile from the Knight Law Center (about a 20-minute walk).
---
Safety and policies
The safety and well-being of our Oregon Law community has been, and always will be, a top priority. As COVID-19 cases rise throughout Oregon and the nation, the university continues to work with local and state public health authorities and peer institutions in the state to establish policies and practices to try to keep our communities safe. 
We are thrilled to report that according to University Health Services results from Monday, August 23, 99.4% of the Law School's students, faculty and staff have complied with the vaccine notification requirement. Of those, 97.3% are fully vaccinated and 2.2% requested an exemption.
We encourage everyone to be safe and to be thoughtful of others during the celebration. Masks are required even if you are fully vaccinated, unless you are actively eating or drinking indoors and outside. You may have heard that the university is implementing a vaccine/negative test requirement for large events. While that requirement does not apply to our gathering because of its size, we encourage our entire community to get vaccinated and to be tested when appropriate as recommended by public health authorities.
---
Alternate Transportation
While you are cheering on the Ducks, please do so responsibly. Below is a list of taxis, limousines and additional fun ways to get out and about.
Oregon Taxi - 541.484.0920
Lane Transit District (LTD) - 541.687.5555
Eugene Hybrid Taxis - 541.357.8294
Bio Taxi - 541.747.2583
Sunshine Limo Service - 541.344.5466
Budget Taxi - 541.683.8294
Go Taxi - 541.343.0167
---
Have any more questions?
Rachel Kahn at lawalum@uoregon.edu or (541) 346-3970
*Please note that answers may be delayed on the days of the events.