As Pride Month comes to a close, it is a good time to reflect on the strides the Lesbian, Gay, Bisexual, Transgender and Queer (LGBTQ)+ community has made throughout history. With still much progress to be made, we at the University of Oregon School of Law want to do our part by recognizing and celebrating the LGBTQ+ community.
Pride Month marks a time of deep historical significance for the LGBTQ+ community, commemorating the anniversary of the Stonewall Riots that began in New York City on June 28, 1969. After police raided the Stonewall Inn, a known LGBTQ+ bar, the outcry was immediate. At the time, "gay bars" were about the only public spaces where LGBTQ+ individuals could be open about themselves, and the violation of the Stonewall Inn was the last straw for a community exhausted of being treated as outlaws. The raid sparked a spontaneous uprising, with the patrons collectively resisting arrest for the first time. Protests followed and lasted for days sparking a national wave of activism and passion around fighting for the LGBTQ+ community and equality. One year later in 1970, on the first anniversary of the Stonewall Riots, the first Pride parade was held in New York City.
Today, according to The Washington Post, one in six adults is LGBT. And this number could continue to grow.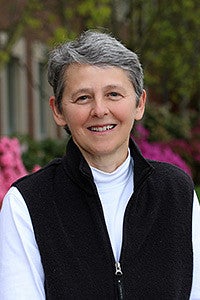 As we acknowledge and celebrate Pride month, I want to take a moment and acknowledge one of Oregon Law's own, Beatrice Dohrn. Dohrn is the Director of the Nonprofit Clinic and Pro Tem Instructor. Many may not know this, but prior to coming to the University of Oregon she had an incredible history of leading significant progress on national legal LGBTQ issues.
Dohrn was at the helm of Lambda Legal Defense and Education Fund's groundbreaking legal department for nearly a decade. Lambda Legal was founded in 1973. It is the oldest and largest national legal organization whose mission is to achieve full recognition of the civil rights of lesbians, gay men, bisexuals, transgender people, and everyone living with HIV through impact litigation, education, and public policy work.
 
Dohrn's tenure at Lambda was a time of immense progress. Under Dohrn's direction, Lambda helped win a United States Supreme Court ruling – Romer v. Evans – against anti-gay initiatives that sought to bar civil rights protections for lesbians, gay men, and bisexuals. Also in those years, Lambda initiated its campaign to win the freedom to marry for same-sex couples, which sparked national discussion and awareness of the realities of lesbian and gay families, as well as the campaign to overturn laws that criminalized same sex sexual intimacy that culminated in the landmark Lawrence v. Texas case. In 2014, while she was teaching at the law school, Dohrn rejoined Lambda's team as of counsel, in the final push for marriage equality in the Supreme Court's Obergefell v. Hodges case.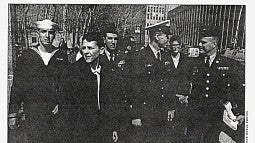 Before that, Dohrn directly litigated groundbreaking Lambda cases, including Able v. USA, against the military's "don't ask, don't tell" law, and she led efforts to further legal rights and protections for lesbian and gay parents. She argued in Lambda's case to win a landmark 1995 ruling from New York State's highest court establishing statewide the availability of second-parent adoption to same-sex couples.
For more on Beatrice Dohrn you can read this article in the New York Times, from October 3, 2000. 
Oregon Law would like to recognize and thank Dohrn and countless others who have fought for the rights of and justice for the LGBTQ+ community.
---
Communications, University of Oregon School of Law