---
Free Mediation Services to Resolve Renter and Housing Provider Disputes
Prevent an eviction before it's filed.
---
Resolution Centers in 5 regions across Oregon are now offering free mediation and conflict coaching for disputes between renters and housing providers. An eviction does not need to be filed, or even formally talked about, to receive these services.  
As part of an integrated system of services that support housing stability, mediation is an effective community tool that prevents evictions from being filed, diverts evictions out of the court system, and keeps people housed. Our aim is to improve relationships between housing providers and renters so that eviction filings, and the resulting negative impacts to families and communities, don't happen in the first place.
Funded by Oregon Housing and Community Services (OHCS) and in partnership with Resolution Oregon, the program seeks to increase underserved community member's access to preventative services and to improve access to justice in Oregon.
---

Eviction Diversion Case Study: Supporting School Success

Eviction Prevention Case Study: Grateful Housing Provider Removes Pending Fees

Eviction Prevention Case Study: Renters Resolve Dispute and Repair Relationship
---
Resolution Centers offering free mediation services, and the counties they serve, are listed below. If you live in one of these counties, please contact the Resolution Center directly. 
Resolve (Jackson and Josephine counties)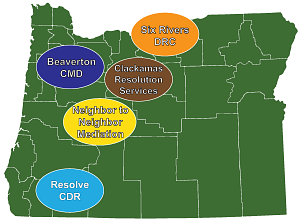 If you do not live in one of the above counties, the other Resolution Centers in our network offer mediation at a sliding scale so that no one is turned away. To find a Resolution Center near you, click on the button below.