---
The Regional and International Conflict Specialization is intended to provide you with a foundation of knowledge and skills for working in developing or post-conflict countries in the field of international development, aid, relief work, conflict management, and community building.
---
You must complete at least 16 credits from the approved list of courses
You must take courses from at least two categories:

Cultural Competence
Participatory Processes
Regional Knowledge
Geopolitical Context
Legal Systems

You must take courses from at least two departments:

Anthropology
Conflict & Dispute Resolution (CRES)
International Studies
Political Science
Geography
Law

If you wish to pursue multiple specializations, you may only apply one course to meet requirements for both specializations.  E.g., if a second specialization consists of 4, 4-credit courses, 12 of those credits must be unique from the first specialization.
You must be accepted to and enrolled in a master's or doctoral program at the University of Oregon.
Specialization Application and Declaration of Specialization forms must be submitted before the start of the final term. Specialization Applications and/or Declaration of Specialization forms submitted during the final term will not be accepted.
All courses which are being applied to the specialization must be completed with grades of B or better, or Pass.
You must notify the instructors of courses in which you plan to enroll for the specialization. 
Note: CRES students cannot apply CRES core courses toward the Regional and International Conflict Specialization. In this context, core courses include:
Power, Culture, and  Conflict Resolution
Negotiation, Bargaining and Persuasion
Perspectives on Conflict Resolution
---
You are strongly encouraged to select courses that offer a breadth or depth in abstract and contextualized theory, knowledge, skills, and perspectives appropriate for advancing the students' academic and career goals. You should consult with your faculty advisor on appropriate courses.
Review the specialization requirements.
Complete the Specialization Application.
Once approved by your Department Head and a CRES Faculty Director, the CRES Program Manager will review your application.
The CRES Program will contact you via your UO email to notify you of the specialization admittance decision of the CRES Program/Law School.
Specialization applications must be submitted via Engage to the CRES Office no later than the Friday prior to the term which you would like to declare the specialization. Forms submitted after that date, will automatically be considered for the next academic term.
If you are a JD or LL.M. student who is planning to enroll in term-based courses OR you are a term-based student who is planning to enroll in semester-based courses (any LAW courses listed below) please contact Law School Registrar Elaine Seyman (elaines@uoregon.edu).
Apply for the Regional & International Conflict Specialization
---
| Cultural Competency | Participatory Processes | Regional Knowledge | Political Context | Legal Systems |
| --- | --- | --- | --- | --- |
| ANTH 513: Culture & Psychology | CRES 614: Negotiation, Bargaining & Persuasion or LAW 610: Negotiation | CRES 535: Israel/Palestine | PS 540: Causes and Prevention of War | Law 671: International Law |
| ANTH 514: Activist Anthropology | CRES 616: Mediation Skills or LAW 610: Mediation | GEOG 510: Negotiating Northern Ireland | GLBL 524: United Nations Interventions in Global Crises | Law 610: International Criminal Law |
| ANTH 683: Anthropological Linguistics | CRES 620: Facilitation | ANTH 538: Race and Gender in Latin America | GLBL 522: Aid to Developing Countries | Law 610: Law and Development |
| GLBL 531: Cross-Cultural Communication |   | GLBL 542 or 510: Development and Social Change South Asia | PS 540: Causes & Prevention of War | Law 692: International Trade and Investment Law |
| GLBL 534: Language Issues for International Studies |   | GLBL 544 or 510: Development and Social Change Southeast Asia | PS 555: Theories of International Politics |   |
| CRES 615: Power, Culture, and Conflict Resolution | CRES 625: Psychology of Conflict | GLBL 545 or 510: Development and Social Change Sub-Saharan Africa | PS 579: US Interventions in Developing Nations |   |
| CRES 530: Working Internationally |   | GLBL 546 or 510: Development and Social Change Latin America | GEOG 541: Political Geography |   |
| GLBL 533: Childhood in International and Cross-cultural Perspective |   | ANTH 526: Anthropology of Colonialism | GEOG 567: International Water Policy |   |
|   |   |   | PS 577: International Environmental Politics |   |
---
Steps to Update an Approved Course of Study:
If you have already been accepted into the Regional and International Specialization, would like to change your proposed course of study, contact the CRES department.
---
Diane Baxter
Pro Tem Instructor and Participating Faculty of Judaic Studies.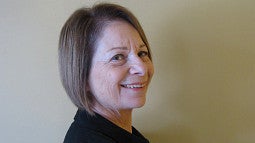 Diane Baxter is the Director of Internships in Israel and Palestine was Senior Lecturer and Head Undergraduate Advisor in Anthropology at U. of Oregon (1996 -2019). She welcomes students to speak with her about studying in Israel-Palestine. Diane's research focuses on the politics of identity among displaced persons, women, and indigenous peoples in colonial and postcolonial societies.  Her area of focus continues to be the Middle East, in particular Israel/Palestine.
Diane was the Director of the Rutherford Middle East Initiative at the UO until 2019. In that role, she created and administered the new MENA (Middle East-North Africa) minor on campus and plans are underway to establish a Middle East, Arabic, and Islamic Studies major at the university. Diane was vice-Chair of the AAA'S Committee on Refugees and Immigrants (CORI) and co-editor of CORI'S 24 Selected Papers in Refugee and Immigrant Studies.  Her article, "Idealized and Devalued: Images of Identity among Palestinians in West Bank Refugee Camps", is included in the CORI volume.  She is also the author of "Honor Thy Sister: Selfhood, Gender, and Agency in Palestinian Society." Diane received her master's degree in Counseling Psychology from UC-Northridge in 1982 and her Ph.D. in Psychological Anthropology from UCLA in 1991.