I have focused my efforts on finding my voice in order to be a better advocate for them and for others, especially those who lack a voice or access.
Iván Resendiz Gutierrez, JD '15
---
Iván Resendiz Gutierrez had dreams of becoming a lawyer ever since the age of four. His parents, first generation immigrants from Guerrero, Mexico, encouraged him throughout his childhood to never give up – no matter what obstacles came across his path. Their reason why was simple: getting an education was a way to escape poverty and not live paycheck to paycheck. 
"My parents did not have the opportunity to study past the sixth grade, but they frequently raised college as a conversation topic at the house," Resendiz Gutierrez said. "They may not have been able to tell me or my two younger brothers how to apply for college or scholarships or what college would be like, but they constantly reminded us that we needed to attend college."
So that's what he did. He became the first in his family to graduate from middle school, high school, college, and law school. Resendiz Gutierrez says that it was his parent's sacrifice that drove him to follow his dreams (and theirs) to apply to the University of Oregon and eventually Oregon Law.
He became a "double-duck" and received his BA (psychology and political science) in 2012 and JD in 2015 with a concentration in Tax Law. Today, he is a fifth-year associate at Miller Nash Graham & Dunn LLP. In his position, Gutierrez works on the firm's appellate, education, and employment and labor relations practice teams doing advice, litigation, and appellate work. 
He has been recognized by national, state, and local organizations, including the Hispanic National Bar Association's "Top Lawyers Under 40" Award, Oregon Super Lawyers Rising Stars, and the Oregon State Bar President's Diversity & Inclusion Award.
Resendiz Gutierrez recently spoke to Oregon Law about his journey to becoming one of the top Latinx lawyers under 40 in the United States. He speaks from the heart on his parent's sacrifice, the importance of friends, faculty and mentors who encouraged him along the way, and how his dream is now a reality.
---
When did you know you wanted to go to law school, and why did you want to get a law degree?
I am one those of people who has wanted to go to law school since I was young—around the age of four.  Around that time, I began serving as my parent's interpreter because they did not speak or understand English. In a way, I was their advocate.  But because I was—and am—an introvert, I struggled to be their advocate.  Since then, I have focused my efforts on finding my voice in order to be a better advocate for them and for others, especially those who lack a voice or access.  
I pursued a law degree because I believed that law school would help me find my voice, teach me valuable skills, and allow me to have a fulfilling legal career.  It did just that - and I love being a lawyer.
What was one thing that surprised you the most about law school?
I was surprised at the collegiality of the student body at Oregon Law.  I had heard horror stories about law students at other schools doing things like tearing out pages in library books to gain the upper hand on other students.  Nothing like that happened while I attended Oregon Law.  My classmates understood that we were all in it together.  In fact, some of us still get together, and I have the pleasure of calling five of them colleagues at Miller Nash Graham & Dunn LLP.  They are Erin Burris, John Clarke, Max Forer, Ryan Hall, and Tyler Bowlin.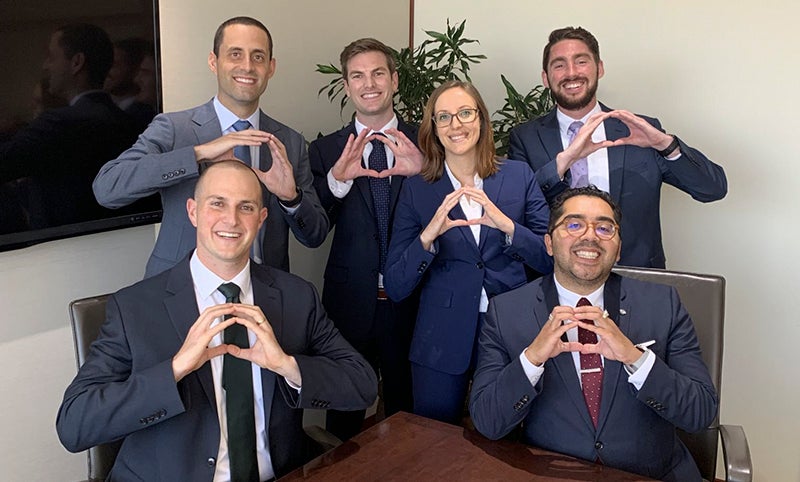 Have you ever experienced imposter syndrome and if so, how did you or do you overcome it?
In my life I've had to overcome poverty, racism, discrimination, social inequality, language barriers, and imposter syndrome. Even now at times, imposter syndrome stills creeps up on me. It certainly does not help that some have called me (or implied that I am) a "diversity hire." But as I become more established as a lawyer, I feel it less and less. 
One person who helped me believe that I was good enough and that I belonged was Oregon Supreme Court Justice Lynn R. Nakamoto. When I clerked with her after law school, we were sitting in her chambers discussing imposter syndrome and I told Justice Nakamato that it was an issue with which I struggled.  She shared wisdom with me, encouraged me, and pointed me to the TedTalk by Amy Cuddy on "power posing."  The TedTalk taught me how to overcome the feeling of imposter syndrome and being powerless. It's a message I took to heart:  "Don't just fake it till you make it; fake it till you become it."
Who or what programs helped you along the way? Especially during law school?
I was involved in the Prosecution Clinic, Moot Court, judicial externships, and various student groups that allowed me to develop my leadership and advocacy skills. The law school was also flexible and allowed me to tailor my law school experience to best meet my goals of working for a large Portland law firm.
In terms of who, I am grateful for the teachers and professors who have helped me along the way.  I would not be where I am without them.  My current job involves a lot of legal research and writing--skills which I developed at Oregon Law and Professor Suzanne Rowe's lessons have been critical to my success as a lawyer. In addition to being an excellent teacher, she also used her power to create a safe space for me and other diverse law students at the law school. She believed in us and empowered us. 
What piece of advice do you have for other first-gen law students? 
If I could give first-generation law students, especially those who identify as people of color, a piece of advice, it would be: You belong. We need people like you in law school, in the bar, and on the bench. In terms of applying or interviewing for externships, clerkships, or associate positions, don't take yourself out of the game. That's not your job. Shoot your shot. You'll be surprised how often it goes in.
---
By Rayna Jackson, School of Law Communications