Photo Credit: Miller Nash Graham & Dunn 
"I've always tried to look for something greater than myself to be a part of, and the law has helped me do that." 
-Jeffrey Beaver, JD '85
Oregon Law alumnus Jeffrey Beaver recently donated a major gift to create and fund the Jeffrey A. Beaver Law Student Scholarship Endowment. The scholarship endowment will help provide financial assistance to students from underrepresented populations and economically disadvantaged backgrounds.  
Beaver, who graduated from the law school in 1985, is a partner and lead eminent domain trial attorney at Miller Nash Graham & Dunn, in Seattle, Washington. He also serves on the Dean's Advisory Council at the law school and is a member of the University of Oregon Foundation's Board of Trustees. 
He says that after graduation he did a lot of soul searching about his experience and started to think about the legal foundation he received at the law school. 
As a nontraditional and underrepresented student during school, Beaver shares that every little bit of financial and moral support helped him to be successful. And now, he wants to "pay it back, and pay it forward." 
"I reflected on where I am and how the law school gave me the help that I needed," Beaver said. "With everything that I received, I wanted to support the school in terms of lessening the debt load being experienced by current students. This is me doing my little part to assist both the law school and students." 
For Beaver, it's also very personal. He has been named a "Washington Super Lawyer" for 22 years straight – but he didn't always feel like one. Recalling his early years in the profession, Beaver says that he used to avoid telling people that he was a lawyer because they never believed him. 
"I hope that Black people in the legal profession will become commonplace and not an exception," Beaver said. "When meeting people, I never told them that I was a lawyer. I did everything I could to avoid it. Instead I told people that I worked in downtown Seattle. I did this because people's responses were the same: 'No, you're not!' "You are? No!' I don't want the next generation of lawyers to experience this – and this scholarship is my way to tell them, that I believe in them and that they do belong."
The family man and the law student 
After earning his undergraduate degree from the historically black men's college, Morehouse, Beaver was recruited to attend Oregon Law by Derrick Bell, the law school's first Black dean. Bell put a friendly face on the institution and Beaver believed that a law degree would open doors he needed to provide for his family.  
Beaver was able to attend law school through a combination of financial aid offerings. He received a scholarship from the law school as well as the Oregon State Bar (OSB) Minority Scholarship. He also took out the OSB Loan Program - which was forgiven once he become a member of the OSB.  
However, with a young family of four, the assistance didn't cover all their living expenses. 
"I had a work-study job in the law library - which was one of the better places to work because I could study," Beaver said.  "I was a Graduate Teaching Fellow as well. I represented students who had grievances before the Student Disciplinary Board. It was tough balancing everything." 
Beaver recalls that in those early years, he didn't have a lot of income – and he received food stamps to help support his family. Eventually, he ended up selling his house in San Francisco in order to remain debt free and ease the financial burden of attending law school.  

Looking back on his journey to the law school, he says that the struggles and sacrifices were worth it.  
"I needed to do something that would keep my options open and give me the broadest potential return - and law school presented that opportunity," Beaver said. "With a law degree you don't have to practice law, you can do anything. And I just thought that having that law degree would give me the most options." 
And Beaver took advantage of each opportunity that came his way. He was articles editor for the Oregon Law Review, president of the Minority Law Students Association, and Student Bar Association vice president. He also completed a semester-long externship at the California Supreme Court to the Honorable Allen E. Broussard, one of the first African Americans to become a judge in California. 
He says that each experience allowed him to develop his leadership skills, listening skills, and strengthened his ability to reach compromise when working with different people. Looking back, he also notes that each opportunity allowed him to be a part of something "bigger than himself."  
"I've always tried to look for something greater than myself to be a part of," said Beaver. "And the law has helped me do that." 
Facing adversity in the pursuit of a dream 
From personal experience, Beaver knows that being from the non-traditional and underrepresented student community is a hard burden to carry. He says that false perceptions, implicit bias, and imposter syndrome – are experienced by students from these backgrounds. 
He recalls that in his class there were a total of four black students – and two left at the end of the first year. Beaver says that he gave serious consideration to not completing the first semester – and even had a back-up plan. 
"I went to law school thinking that I would try it for one semester. I took a leave of absence from my job for one semester – and I figured that if I wasn't doing well, and law school wasn't for me, I could always come back to my job." 
That first semester he describes pushing through his doubts of thinking he wasn't good enough, that he didn't belong, and that he was a "fake." 
"I was fighting impostor syndrome," Beaver recalls. "I would tell people, 'OK, fine. I might not be the smartest guy, but I'm going burn that midnight oil. I'm going to be the best prepared that I can possibly be and that's where I'll beat them."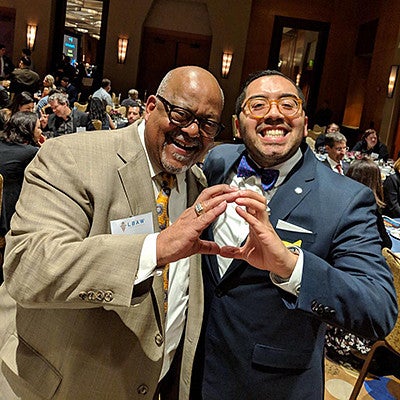 With that determination, the semester went better than he expected. He quit his job and poured himself 100% into school.
After graduation, he was able to secure a prestigious federal clerkship with the Honorable Jerome Farris, a United States Circuit Judge of the United States Court of Appeals for the Ninth Circuit. Serving as a clerk for the first Black judge on the 9th Circuit Court of Appeals – and fellow Morehouse graduate - gave Beaver the distinction that he was looking for. 
"Because the federal clerkships are so rare, it gave me a leg up and gave me a stamp of approval that others didn't necessarily have," Beaver said. "It opened a lot of doors and gave me a good head start." 
The Mountain Top 
Since that clerkship, Beaver has been elected into prestigious organizations such as The American Law Institute, Fellows of the American Bar Foundation, Counselors of Real Estate, and the American College of Trial Lawyers. He has also been recognized by Washington Super Lawyers (2002-2020), and The Best Lawyers in America in Eminent Domain and Condemnation Law, Litigation–Real Estate, and Real Estate Law (2019-2020). 
In 2019, the law school awarded Beaver with the Frohnmayer Award for Public Service. The award recognizes a graduate, faculty member, or friends of Oregon Law whose public service brings honor to the school.   
Even with all his accolades, Beaver was still stunned when he heard the news about the award.  
"You don't expect things like that," Beaver said. "You don't expect to be recognized – even though you would like to be. I keep my head down and work, and work, and work. I never truly took time out to take a breath and look up. And, now I look around and say, 'Oh wow, look at that.'  I want to give honor to that the recognition – and want to pay that back."  
To learn more about the Jeffrey A. Beaver Scholarship Endowment, or to make a contribution to it, please contact Jessica Merkner, Director of Development.
Jessica Merkner, JD (she/her)
Director of Development
University of Oregon School of Law
Cell: (541) 543-8337
Email: jmerkner@uoregon.edu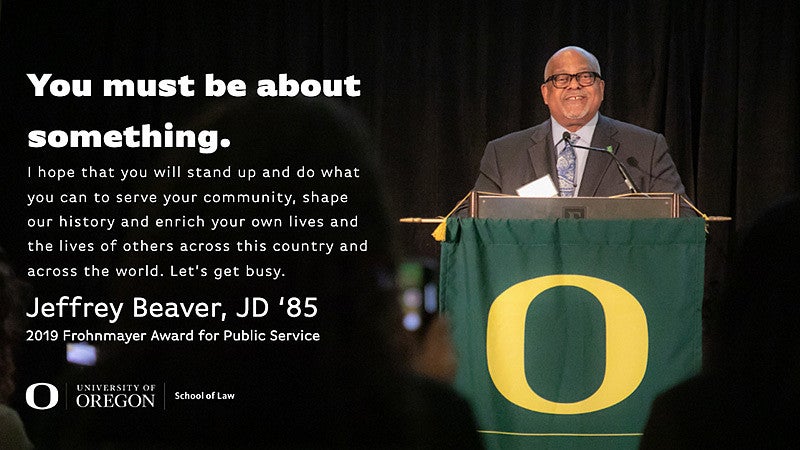 ---
By Rayna Jackson, School of Law Communications