Finding a purpose that "gets you up every day" and "lights a fire in you" is something that Maggie McAdams, JD '21, was looking for when she came to the University of Oregon School of Law.
McAdams says that one of the main reasons that she was drawn to the law school was for its various clinics, experiential learning, and field placement opportunities.
While she was interested in immigration work and public service law for a very long time, it was opportunities to be "thrown into" the work and serve others face-to-face that she says were key to discovering her passion.
"During my tour, I saw that Oregon Law encouraged students to gain real-world experience in the legal field while taking classes - and that was important to me," McAdams said.
While adjusting to life as a first-year law student and the academic rigors of the school, McAdams looked for opportunities to become involved in extracurricular activities. In particular, she participated in the Oregon Law Student's Public Interest Fund (OLSPIF), Women's Law Forum, and the National Lawyer's Guild (NLG).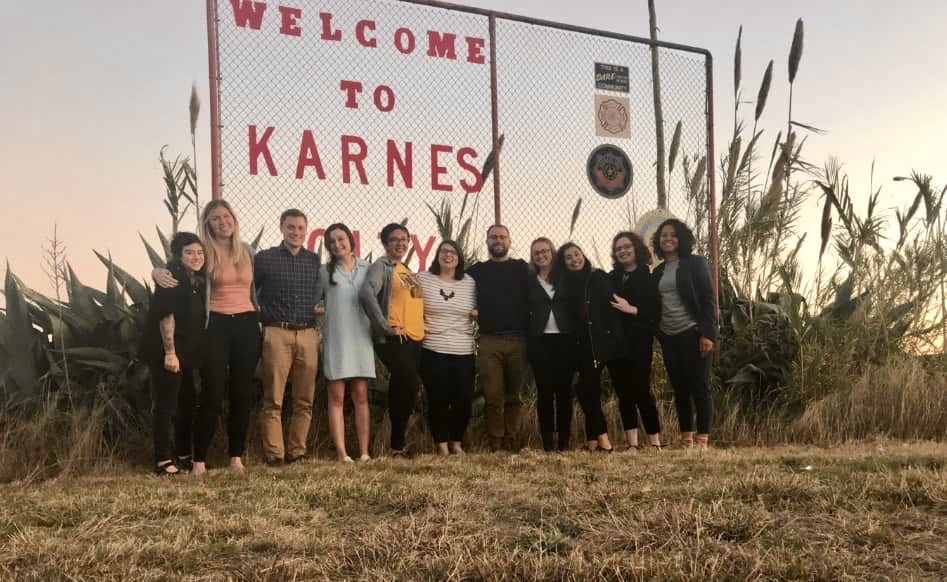 In 2019, McAdams and ten other law students with NLG traveled to Karnes, Texas, to work with RAICES, a national immigration non-profit on asylum cases in border towns. The experience impacted her so much that in 2020, she took on the position of coordinating the student trip with Al Otro Lado, a similar immigration non-profit organization, in Tijuana, Mexico, and San Diego.
McAdams, who received an undergraduate degree in Spanish, says that both trips revealed the need for bilingual lawyers, as well as the issue of access to justice gap.
"I will take away from both trips the raw, real, dark and horrific conditions of the US Mexico Border and the detention centers that house those seeking immigration status in the US," McAdams said. "Both trips made me angry, inspired, and steadfast in my commitments to immigration rights and social justice." 
Making the most of each opportunity
McAdams' asylum work "lit the fire" and she worked with the Career Center staff to find a field placement that would allow her to continue to build upon the work that she started with NLG.
Through Oregon Law's Portland Program, she was able to spend her third year in Portland. This enabled her to access a broad professional network, and she was able to secure a field placement with Portland's Metropolitan Public Defender's Office (MPD). As an extern, she worked with attorneys and support staff in the juvenile, immigration and misdemeanor units.
In her role with the misdemeanor unit, McAdams took on approximately 15 cases of her own, working primarily on DUII and misdemeanor domestic violence cases. She handled the cases from start to finish, beginning with client intake interviews, gathering mitigation reports and discovery, getting consent for representation when communications allowed, and appearing on the record at hearings.
McAdams also spent time translating documents for felony, misdemeanor, and juvenile attorneys in the MPD office on high-level felony cases. During her time at MPD, she also became a court-certified interpreter which allowed her to fill interpreter vacancies brought about by the COVID-19 pandemic.
"I loved being able to explain the criminal justice system to someone and ease the stressors of a client who otherwise would have no ability to communicate with his attorney," McAdams said. "I hope to continue to use my Spanish fluency to serve those who not only feel stifled by the complexity of the judicial system, but also feel hopeless because they simply cannot find or afford an attorney who speaks their language."
One piece of advice that McAdams has for students is that they involve themselves at their field placements by taking initiative and being open to various projects outside of their comfort zone. She says that she didn't start at MPD thinking she would have the chance to work in the juvenile, misdemeanor, and immigration units. However, those experiences led to her getting an assignment beyond the original scope of her placement.
After the official placement ended, she continued work with two immigration attorneys within MPD. She joined their team, which partnered with Immigrant Defense Oregon, on an asylum case and adjacent bond hearing for a youth who had been incarcerated for over two years.
As she looks forward to graduating this spring, McAdams notes that each step in the process led her closer to her purpose. Through the field placement, McAdams says that she discovered her calling: to work with clients; to fight for others; and to humanize people to the criminal justice system in order to show that their life circumstances, barriers to access educational, health and legal support play a role to what led to a court case.
"Many people talk about finding a career that 'gets you up every day' and 'lights a fire in you' to work hard," McAdams said. "Whether it's criminal defense, family law, employment law or immigration, if I can serve those who are underrepresented and denied equal access to justice, my so-called 'cup' will be completely full at the end of each day."
---
By Rayna Jackson, Alumni Association Communications